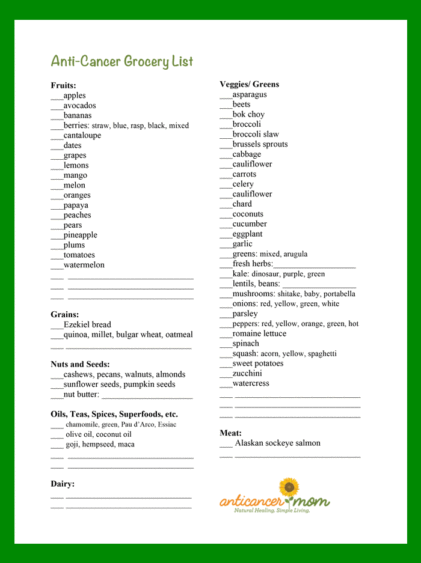 I hear from people often who feel they are in a salad rut or a smoothie rut with their anti-cancer diet. They want to try new things, but it's just hard to get their minds wrapped around what exactly they should buy. Here is a fantastic resource for those of you who can identify with this. Check out my Free Anti-Cancer Printable Grocery List!
How to Use:
Download and Print.
Fill out quantity amount for each food, write in, or circle what you need.
Go grocery shopping.
Eat, heal, and thrive!
I use this exact grocery list to do my monthly or weekly grocery list shopping. You can check out my anti-cancer grocery shopping routine post from last week and dig a little deeper into how I make things happen with my 3 kids in tow and also the AMOUNT of shopping that often goes hand-in-hand with healing cancer naturally or just adopting an anti-cancer lifestyle.
Also, this coming week you can follow me on Instagram where I'll be posting pictures of the meals I create with the ingredients on this list. I look forward with connecting with you all there!
Connect with AntiCancerMom on Facebook or Twitter!
See more posts on anti-cancer lifestyle and diet and alternative cancer treatments HERE.
This blog is Ad-Free! DONATE  to show your support 🙂