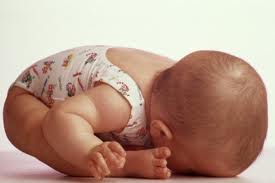 I know this may seem bizarre coming from a website called "Green Drink Diaries," but as a mother of a diaper rash prone daughter, I feel called to share the wealth of knowledge on how to stop diaper rash forever, all with ingredients you can eat!
At our house we try to avoid hygiene products with chemicals as much as possible. So, when at 11 months old (when breastfeeding came to a screeching halt and solid foods became more common) my daughter started developing severe, bleeding, cracking diaper rash, I became OBSESSED with finding a natural cure that worked.
After visiting several different websites and reading through my "What to Expect When…." type books, I came up with a few contenders to start with. Many women said that tea tree oil worked well with killing yeast diaper rash, so I mixed it with some olive oil and slathered it all over my baby's bum for a few days only to see very little progress. It seemed every time she pooped it would start all over again and couldn't heal.
Perhaps I gave up too soon, but I began to emotionally plummet into the belief that perhaps natural remedies weren't strong enough for this horrible, bleeding rash. So, I ventured into the conventional products. I bought Boudreaux's Butt Paste, A&D Ointment, Desitin Thick and Creamy, and an Avalon Organics diaper cream. I had the same result. The rash would somewhat heal but then after a poop going unnoticed for more than 5 minutes, it would come right back around to its awful condition again.
Finally, after weeks of this it divinely hit me. Perhaps I needed to double or triple up on the natural approaches? And THAT is what worked!
The BEST natural diaper rash cure in the world is as follows:
1. Vinegar and Tea Tree Oil Bath: Add 1 cup of white vinegar and 1/4 Tbsp tea tree oil to 2-3 inches of bath water (in a full-sized bath tub). Make sure there is enough water to cover your baby's affected area. Try to keep baby in the tub to soak for 10-20 minutes if possible. Drain tub and wash baby with clean water. Towel dry baby and dry affected area well or with a blow dryer set on low to medium heat. Leave diaper off as long as possible after this to air area out. Leave diaper off as much as possible while treating diaper rash.
2. Coconut Oil Cream: Lather a thin layer of coconut oil on baby's bottom and then diaper with a clean, loose, diaper. Avoid using baby wipes at changes. I also found that we needed to go ahead and buy the next size diaper (we went from size 3 to 4) to allow for more air to flow through. I believe this also contributed to my daughter's bum healing. If you cloth diaper, make sure that you follow yeast cleansing protocols for your diapers.
3. Grapefruit Seed Extract Daily Spray: After the baby is healed, mix 15 drops grapefruit seed extract with 2 oz of water and add to a spray or spritzer bottle. Spray 3 squirts on baby after each diaper change. Once the rash is healed this will help keep yeast away. I still spray this on my daughter daily, especially when I see redness starting.
I only know this protocol from personal experience. Please follow all three steps for 3-4 days or until rash is gone. All of the listed products can be purchased at your local health foods store. Chronic diaper rash can also be a sign of a food allergy. If your child's diaper rash worsens, please consult with your physician.
***UPDATE: 2/16/15: It has been almost 4 years since I wrote this post and now 2 more children later, I have learned how to avoid diaper rashes from getting this bad to begin with. I haven't had to use this protocol since writing this post due to two big changes I've made. #1: Making my own baby wipes. Something about THIS RECIPE from Wellness Mama has helped a ton and keeps baby's bum moisturized without the irritation of conventional wipes. #2: Applying Boudreaux's Butt Paste Maximum Strength at the first sign of irritation. This stuff is amazing, and although not as "crunchy" or natural as I typically like, IT WORKS. Enough that I rarely have to use it, therefore reducing frequent exposure to chemicals.