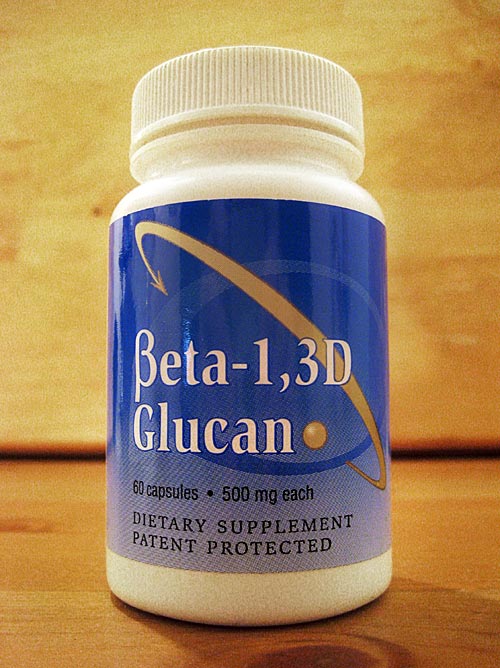 As esteemed cancer researcher and author of Cancer-Free: Your Guide to Gentle, Non-Toxic Healing, Bill Henderson says, "No cancer either begins or thrives if the patient's immune system is strong."  So, a first priority for either prevention or healing is to get your immune system in cancer-fighting shape.  One of the fundamental ways Bill has found to do this is through the research product of pharmacologist and immune system expert A.J. Lanigan.  His product is known as Beta 1, 3-D Glucan.
I am not one for "magic bullet" cure-alls. Beta 1, 3-D Glucan comes in a bottle much like a pharmaceutical would.  You peel off the plastic safety wrap, pull off the seal, and pluck the cotton ball out.  It also performs a specific function much like a pharmaceutical does.  However, it is far superior to any patented drug in my opinion.
Lanigan himself had Beta 1, 3-D Glucan tested at Harvard, Tulane, the University of Louisville, Baylor, Johns Hopkins among others.  Through peer-reviewed studies, they tested it against other high-end immune boosting products and found it in fact to be "far superior" to all others on the market.
Beta 1, 3-D Glucan is extracted from yeast and is used to strengthen even the weakest of immune systems without causing an auto-immune response from over-stimulation.  It functions by planting a receptor in the outer membrane of your "neutrophil immune cells" that allows them to better recognize cancer cells in order to destroy them.  Note: Normally, your body's cellular defenses do not recognize cancer cells as they are disguised from the immune system (I'll talk about how and why this happens in a future post.)
I took Beta Glucan every morning through my cancer treatment. Because the therapeutic dose called for 500mg per 50lbs of body weight and I was 120lbs, I alternated every other day 1,500mg/ 1,000mg. After taking it, you have to wait 30 minutes before eating.  It was during this is that I would make "Cortney's 'Kick-Butt' Cancer Fighting Concoction" and the Cottage Cheese/Flaxseed Oil (CCFO) mixture.  By the time I was done it would be time to hold my nose and get started on the CCFO.
Even though (at the time of this post) I have been cancer-free for almost 2 years, I still take 1,000mg of Beta 1, 3-D Glucan every morning along with CCFO as part of my breakfast regimen.  At lunch, I'll usually have a 64oz Green Smoothie, and some supplements which I will also discuss in the future.
If you are interested, I purchase my Beta 1, 3-D Glucan from Phyllis at Ancient Elements. Phyllis was a wonderful support during my cancer fighting period. She has the best price I have been able to find and extremely friendly and helpful customer service.
Disclaimer: Please note that I am not a doctor or a cellular biologist.  Humbly speaking, I don't even consider myself a "cancer researcher."  I am simply a survivor wanting to share my story, the knowledge I've learned (that worked for me) throughout my holistic anti-cancer journey, and to help raise awareness for alternative cancer treatments as a whole.  As such, I am greatly simplifying much of this information for timeliness and comprehension's sake.  Never hesitate to do your own research. If you have any questions or thoughts along the way, please leave a comment below.  THANKS! 🙂