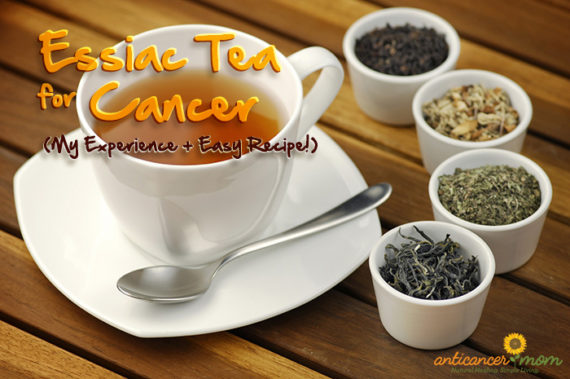 I have been wanting to write about Essiac Tea and its role in healing cancer for practically forever. This post is a long time coming.
I actually lost interest in Essiac for a good while when I was pregnant– then nursing- and pregnant– then pregnant again– then nursing then pregnant and nursing again from 2009 until 2016.
Unfortunately for me, I couldn't drink Essiac tea while pregnant or nursing. It's practically the only natural cancer remedy that should be avoided while pregnant! (I'll write a little bit more about WHY below.)
So, while I wrote about practically everything else I did to heal my body naturally from cancer, Essiac was left on the back burner until finally this past summer (when nursing was D-O-N-E,) and I couldn't wait to start detoxing with Essiac again!
The History of Essiac Tea:
Essiac tea is named for Canadian nurse, Rene Caisse (pronounced "Reen Case",) who developed the formula for Essiac tea from an ancient remedy used by Canadian first nation tribes, (possibly Ojibwa.) It literally means "Tea of Life."
"Essiac" is Rene's last name spelled backwards. She learned of the Essiac tea herbs from one of her patients who had recovered from advanced breast cancer 30 years prior (this was in the 1920's.)  This patient had learned of the herbs from a native medicine man and recovered from her cancer while only drinking the tea from the herbs.
Rene began using the tea blend on some of her cancer patients who were deemed "lost causes" (starting with her own aunt,) and had great and surprising success. She opened and ran her own clinic for over 30 years (which was eventually forced to close by authorities.) Read Rene Caisse's own words about this HERE. She helped thousands of patients heal using her Essiac recipe and became known as "Canada's Cancer Nurse."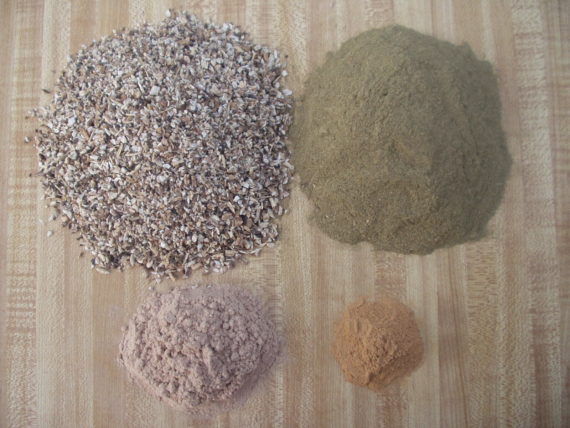 How It Works:
Traditional Essiac tea is made from 4 herbs:
Burdock Root: Reduces mucus, helps maintain a healthy gastrointestinal tract, stimulates a healthy immune response, used for weak digestion, as a diuretic for waste retention and to sweat out toxins through the skin. It has vitamin A and selenium to help reduce free radicals and its chromium content helps maintain normal blood sugar levels.
Slippery Elm (inner bark): Helps dissolve mucus deposits in tissue, glands and nerve channels. The inner bark, rich in calcium, magnesium and vitamins(A,B,C,K) helps to nourish and soothe organs, tissues and mucus membranes and is helpful to the lungs. It also helps neutralize acids from indigestion.
Sheep Sorrel: Used in traditional folk herbalism to cool the body, creates sweating and detoxification through the skin: as a diuretic useful in maintaining healthy kidney and urinary functions. It is rich in vitamins and trace minerals (ascorbic acid, mineral oxides, calcium, magnesium, phosphorus, potassium, and silicon. It is thought to nourish the glandular system.
Indian Rhubarb Root: Used traditionally in small amounts, this herb acts as a gently laxative and helps purge the liver of toxic buildup and waste. It helps neutralize acids due to indigestion. Its malic acid also carries oxygen to all parts of the body, aiding in healing and promoting a positive and balancing effect upon the whole digestive system.
(Thank you to www.essiacinfo.org for this!)
***Essiac can be made with a 4 herb or 8 herb blend. I have used both and taste is almost identical and both include Rene Caisse's original 4 main herbs.
My Essiac Story for Hodgkin's Lymphoma:
Essiac is an EXCELLENT natural therapy for lymphomas since it helps release and flush toxins from the lymph system, altering the environment that encouraged circulating cancer cell activity in the first place. (See above herb descriptions.)
My experience with Essiac was pretty incredible. I added Essiac into my daily natural cancer protocol about 6 weeks after I started my anti-cancer diet. Its results were noticeable within 2 weeks.
I had a walnut-sized lymph node in my neck that began shrinking quite rapidly to the touch within days after beginning Essiac. I was grateful it was palpable from the surface and we could gauge my progress from its behavior.
Two months after beginning my natural cancer treatment (and about 3 weeks after starting Essiac,) I went to a local living foods center to receive detox therapies and was asked ONLY to consume the foods and juices there for my 12 days there. So, in keeping with the instructions I stopped consuming two parts of my protocol: the Budwig mixture and Essiac.
After my 12 days there I actually noticed an obvious INCREASE in the size of my lymph node. It was coming back! I immediately began Budwig and Essiac again and never turned back. My cancer has been in remission since 2009 and that lymph node has NEVER increased in size again.
 Who Should NOT Use Essiac:
People receiving chemotherapy should use Essiac with caution. Consult with an experienced naturopath or herbalist to address interactions and detoxification during or after chemotherapy. However, I have read testimonies of Essiac users going through chemo and it actually made them feel BETTER, so consider this case by case.
Pregnant and nursing women should use great caution with Essiac tea. Several of the herbs in the tea can cause uterine contractions that could cause preterm labor or miscarriage. During nursing, the herbs will cause toxins to be released into the blood stream which passes into the mother's milk and into baby. With this said, I have heard of women using Essiac during pregnancy and nursing. I personally chose not to.
People with kidney and liver problems should consult their doctor before using Essiac.

My Favorite (EASY) Homemade Essiac!
When I drank Essiac during my cancer season, I didn't feel confident enough to make my own and ended up buying REALLY expensive (but awesome) pre-made Essiac (see bottom of post.)
Nowadays I definitely feel better about making my Essiac tea. It turns out it wasn't really that hard to make in the first place.
After much research, my favorite version of pre-blended dry Essiac is from at Ojibwa: Tea of Life. (You can purchase HERE.) ***See Coupon Codes at bottom of post!***
Ojibwa: Tea of Life is intentionally crafted and blended by master herbalist Michelle Kalevik, The herbs are gathered at their appropriate time and season and are used immediately or are properly stored and cleaned.
One bag will make MONTHS worth of Essiac tea.
How to Make:
To make 64 ounces of Essiac tea (two amber 32 ounce bottle worth!)
This will easily cover 2 weeks of twice to three times a day of Essiac consumption.
Step 1: Around bedtime, use a large pot with lid and bring 3 quarts of filtered water to a boil.
Step 2: Stir in 1/4 cup Ojibwa: Tea of Life Essiac Tea blend and stir.
Step 3: Turn off heat, replace lid and let cool and brew overnight for 10 hours.
Step 4: After 10 hours, stir tea and bring the tea back up to almost boiling but not rapidly bubbling. Let cool to room temperature.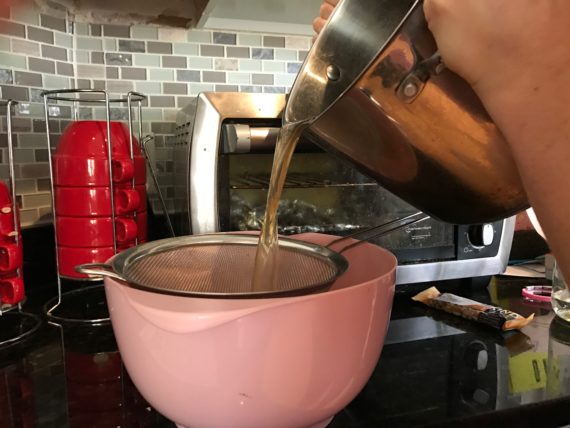 Step 5: After cooling, strain Essiac through a fine colander. (I actually find that that most of the tea sinks to the bottom and I can bottle a good amount of it before straining as long as I don't stir it up. For straining I use a fine mesh strainer like this one.
Step 6: After straining into a bowl like this one, (the lip is REALLY helping for pouring,) you can either carefully pour straight into the bottles or use a funnel like this one to more cautiously pour into the bottles.
Step 7: Store in refrigerator in dark amber, glass bottles. See the ones I like on Amazon HERE. The above recipe makes two 32 ounce bottles. Consume within 2-3 weeks.
To Drink Essiac Tea:
Measure out

2 ounces

(4 Tablespoons) of the Essiac tea and mix with hot water to your liking. I usually pour about a 1/3 cup hot water in with my cold tea and the temperature and taste is perfect. If you don't like the flavor, you'll get used to it! It did and I love it now. It tastes like….LIFE!
Make sure to wait 30 minutes to eat anything else. Consume 2-3 times per day if healing from cancer. I also like to use Essiac for 3 weeks and then take a week off to give my body a rest.
Pre-Made Essiac Tea:
When I was going through treatment I was overwhelmed by the idea of making my own tea. I felt like I was prepping food in my kitchen 24/7! So my husband and I spent a fortune buying 1-2 bottles of Flor-essence brand Essiac tea a week at almost $50 a bottle!
Ojibwa: Tea of Life also has an entire line of Essiac products including a pre-made tonic for a much better price. You can see those HERE and get coupon codes below. (Good until 3/28/17)***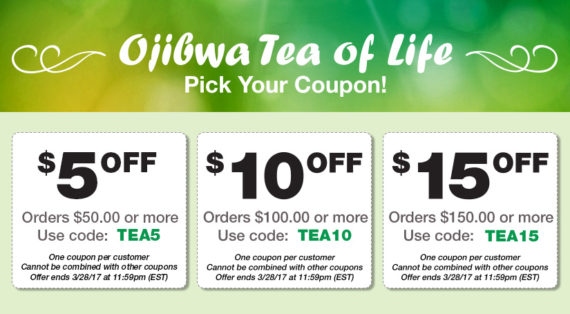 For Essiac Tea Community and to hear MANY successful testimonies and share your own, see the Essiac Tea Users Facebook page.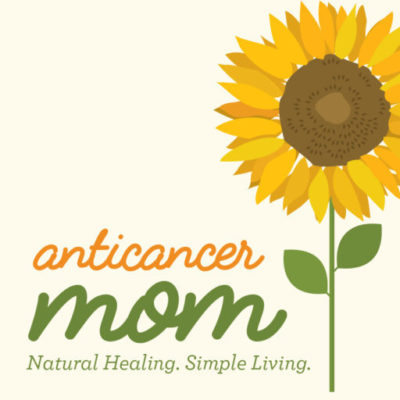 Connect with AntiCancerMom on Facebook or Twitter!
See more posts on anti-cancer lifestyle and diet and alternative cancer treatments HERE.
This blog is Ad-Free! DONATE  to show your support 🙂
Sources and References:
http://www.essiacinfo.org/caisse.html
http://www.healthfreedom.info/Cancer%20Essiac.htm