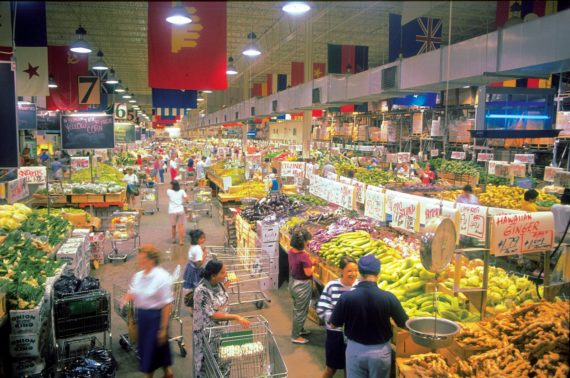 This week has been a busy one with a teething baby and revising the HealingStrong Group Leader's Guide, but we did manage to knock out our family's monthly grocery trip to Atlanta's Your Dekalb Farmer's Market. I thought my fridge looked worth sharing with you, thinking I would loved to have seen what other cancer thrivers were eating when I was newly diagnosed! So here it is in all of its overstuffed glory and a glimpse into our grocery routine as a family of 5.
My Grocery Shopping Routine and a Look Into My Anti-Cancer Fridge
First, off, if you're in the Atlanta-metro area you MUST visit "Your Dekalb Farmer's Market" in Decatur. There is nothing else like it in the world (to my knowledge!) Picture a Costco-sized warehouse with EVERYTHING straight from the farm to the market. And it's CHEAP!!! Cheap as in affordable and way better quality than anywhere else, including Whole Foods. Bulk grains, spices, homemade breads using all organic ingredients, raw cheeses and organic dairy, fresh living fish and organic, grass-fed meats. There's no middle man so your produce can last for weeks. I could go on and on about my love for YDFM, but if you're in Atlanta and you're a naturally, organically-minded person, skip the Coca Cola Museum and visit Your Dekalb Farmer's Market instead.
Our Grocery Routine:
We go to the Dekalb Farmer's Market once a month and buy two week's worth of produce and a month's worth of any meat, dairy,  packaged foods such as dried fruit, nuts, and breads we eat. Yes, we average in between $500-600 each visit.
Since it's a 45 minute drive for us (on a Sunday to avoid Atlanta traffic,) it's just not possible to go once a week. For the rest of my monthly produce, I supplement with shopping trips to Whole Foods, Sprouts, or Kroger once a week.
Note: My diet still consists of 90% raw, organic vegetables and fruit and I drink a Budwig smoothie everyday. My kids and husband eat minimal dairy, meat 4-5 times a week, and we eat sprouted Ezekiel bread or homemade Farmer's Market bread. It's a busy season for us and this is just easier than trying to cook raw vegan for everyone (and fighting the fam to eat it joyfully.) I prepare all three meals each day unless it's a day of going out for dinner or lunch, which we do 2-3 times a week (usually two dinners and a lunch on the weekends. We love Jason's Deli for its organic options and Chipotle for its non-GMO options and both have salad and vegan options for me.)
Divide and Conquer
Since the farmer's market we love is so far from our house, my husband and I go together as a team. He takes our 3 year old in his cart and buys all of the meat, fish, dairy (such as a case of cottage cheese for my Budwig Protocol ingredients each month!,) bread, nut butters, and loose teas. It takes a good while since each meat is fresh and packaged especially for the amount we want.
I take our 6 year old and 1 year old with me and buy all of the bulk items such as dried fruit, pumpkin seeds, maca, goji berries, raw nuts, quinoa, nutrition bars, etc. I then go over to the massive produce section where there is pretty much every food God ever made: yuca, taro, dragonfruit, jack melon, cored pineapple, watercress, broccoli sprouts, bok choy, Kombucha….on and on. There is also a massive wall of spices that are very affordable.
So, What's in My Fridge?

Haha, and the next day after smoothies were made and half of a banana was eaten by my 3 year old…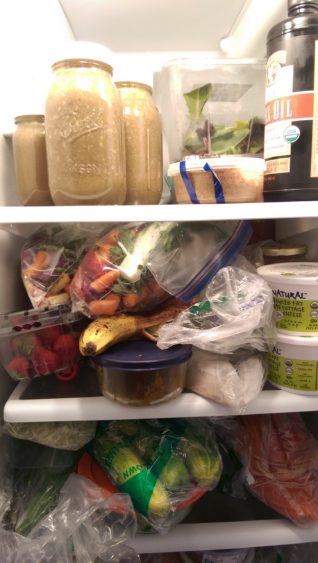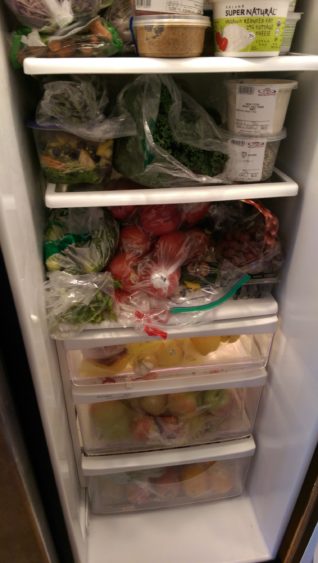 Here's a list of some of what I bought this week. Almost everything is organic.
24 apples
1/2 pound fresh almond butter
asparagus
6 avocados
2 acorn squash
4 beets
6 bell peppers- various colors
1 bok choy
3 heads broccoli
1 bag brussels sprouts
1 red cabbage
10 pound bag of carrots
1  purple cauliflower
1 container chamomile tea
1 bunch chard
1 container goji berries
2 containers hempseeds
1 bunch kale
1 container maca powder
10 pears
1 pineapple, peeled and cored on site
8 plums
2 bags sweet potatoes
2-  5 pound bags of spinach (I freeze them for smoothies)
8 squashes
10 tomatoes
1 bunch watercress
1 giant watermelon
24 Kalona Organic Yogurts
14 containers of Kalona Organic 2% cottage cheese (I freeze 6 of these)
3 bars of raw, grass-fed cheese (I freeze two of them and use them through the month for my family.)
2 loaves of organic multi-grain sprouted bread (I freeze these.)
2 whole chickens
10 pounds of chicken breast
4- 1 pound containers of ground turkey
4 pounds of deli turkey in 1/2 pound bags
(and other weeks we get ground bison and fresh sockeye salmon)
Note: It's important to note we also go to Costco once a month where we get diapers, eggs, vanilla, almond milk, Dr. Praeger's veggie burgers, toilet paper, paper towels, etc.
UPDATED: For a FREE printable Anti-Cancer grocery list…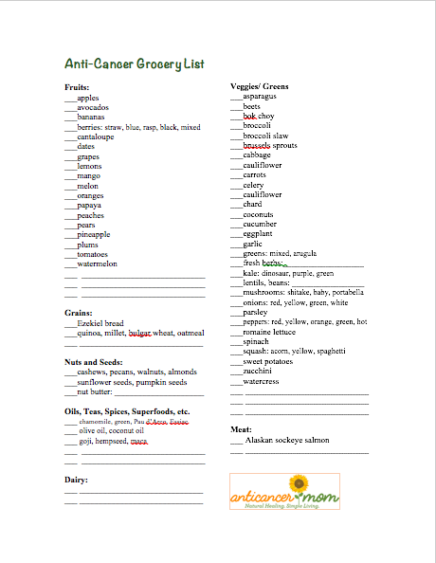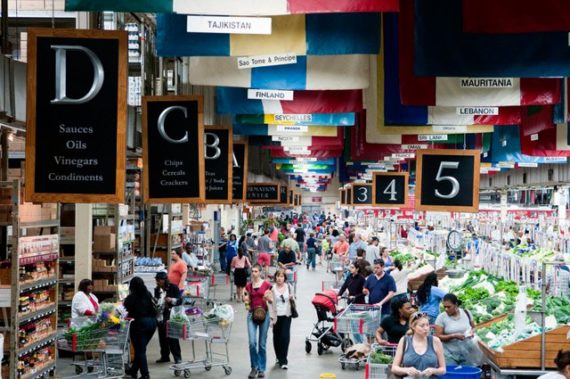 Visit Your Dekalb Farmer's Market Next Time You're in Atlanta:
Some tips for visiting Atlanta's Your Dekalb Farmer's Market…
Visit as soon as it opens for less crowd. Weekdays are best. On the weekends it is like Disney World. No joke. You can barely move around with your cart it gets so crowded.
Guns are not allowed on the premises, nor photography. Their employees will ask you to put your camera or phone away if they see you (yep- it's happened to me before!)
Oversized bags are not allowed in the store either. There is a bag checking area at the front for reusable grocery bags.
It's really cold inside. Bring a sweater, especially if you're a native Floridian like myself!
Stock up on spices while you're there! They are the best prices around and super fresh.
If you're driving from far, bring a cooler for your perishable foods or ask if they can put your meat on ice. (I know they do this for fish for sure.)
Enjoy the people you'll meet. Ask questions and try new foods! It's a very friendly and welcoming place to talk with people from all over the world and learn about new foods and cultures.
Connect with AntiCancerMom on Facebook!
See more post on anti-cancer lifestyle and diet and alternative cancer treatments HERE.
This blog is Ad-Free! DONATE  to show your support 🙂