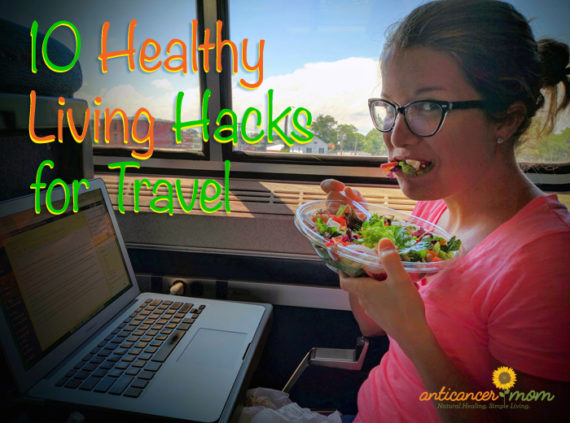 I'm writing this post on a four hour Amtrak train ride from Boston to New York, wrapping up a nine day trip with my husband. 😊 Travel strategy is fresh in my head, and since it's been a few months since my last post, I wanted to catch up with everyone here!
Today I'm sharing a bit of what worked and what didn't along our travels these last seven days. To make this trip happen, we DROVE 🚗 from our home in Atlanta in our minivan to South Florida, dropped our three kids off with my parents there and took a PLANE ✈ to New York. Then we took the AMTRAK train 🚄 to Boston and then back to New York where we will catch a PLANE 🛬 back to South Florida and will drive back home to Atlanta. 🚗
Phew. And YES we are very grateful for my parents wanting to binge watch their grandchildren. 😜
PERFECT isn't a thing….especially on vacation.
I am proud to say that we are not PERFECT people. I ate steak once on this trip. And had a bit of ice cream. And on the Amtrak I ate a microwaved sandwich. Oh Lordy Be I was starving. I even joked to my husband…"you know <insert any alternative health blogger here> would say that they just FAST if there's nothing healthy to eat"….as I bit into my rubbery sandwich. <sigh>
These are obviously not everyday healthy choices and definitely not anti-cancer. But it has been 9 years since my cancer diagnosis and 8 years since remission. It's nice at this point to occasionally have a treat that I enjoy and loosen the obsessiveness and intensity this lifestyle can create.
I still struggle with guilt sometimes about eating food I typically don't eat (especially sugar when I rarely do,) but I've learned over the years that if I choose to do it, I'm going to let it go and enjoy the moment.
I've also learned that I don't eat a lot of it. With sugar in particular too much of it makes me feels sick. Even if I order the kid-sized portions I usually don't even finish that.
It's nice to open up a bit to you all today. Sometimes it is easier to keep the stuff I eat that I'm not so proud of to myself, but I'm a real person and MOM to three kids. It's nice to RELAX the rules and rigidity sometimes.
10 Healthy Living Hacks For Traveling
#1 Bring a Variety of BARS
Pre-packaged and sealed food can be brought on planes. We stocked up on packaged food bars that would last our entire trip. These can serve as a quick breakfast or a snack so you're not tempted with easy picking snacks. Bring a variety so you don't get sick of them. KIND bars has a variety pack you can bring along and are non-GMO, 5 grams of sugar or under, and have a good amount of protein. Yes, yes I know- they are not sprouted or organic, so if you require that + low sugar, you may want to try one of these (just check the sugar content.)
#2 Bring Along a Portable Water Filter
For water we each bought a large bottled water (usually FIJI if I can find it) once I get through airport security. We used this same bottle to refill throughout our trip using my favorite water filter that I bring along with us. Each morning before we adventured out we refilled both our large FIJI bottles and put them in our backpack. We brought our portable water filter (and alkalizer) along with us just in case we wanted to filter water at a restaurant or to refill our water bottles.
#3 Bring Your Non-Toxic Bathroom Along With You
#4 Clean Hands Yes Please
Dr. Bronners has an awesome spray hand sanitizer that is free of triclosan and other yucky chemicals and is also under 3 ounces so you can pack it with you.
#5 Non-Toxic Sunscreen
For sunscreen, you usually need more than 3 ounces on a long trip, so I have found that most CVS, Duane Reed, and Walgreen stores we visited had ALBA brand Very Sensitive sunscreen which is a 2 (out of 10 with 10 being the most toxic) on the EWG scale. This is a much better option and readily available than other conventional sunscreens (and it works well when reapplied every 2 hours or so.)
#6 Eat Without Guilt
Rather than focusing on what you SHOULDN'T eat, focus on what you can and how you'll feel afterwards- both physically and emotionally. Thinking about how I am going to feel AFTER my meal helps me see through the emotional cravings. If I eat a salad with a side dish of green beans and sweet potato, I am going to feel a lot better than if I choose to eat a pizza (even if it's loaded with veggies.) Let yourself have one fun meal a day or every other day. Sometimes setting "rules" for myself in this way helps me with letting go of any guilt. (Disclaimer: Obviously if you're adhering to a cancer healing diet at this point you would want to stay the course and avoid all foods that are not allowed on your particular diet.)
#7 Smoothies Are Your Friend
Look for smoothie and juice places. These were EVERYWHERE in New York and Boston. On the sides of the road or in walk-in stores. A quick Google search is your best friend. 😀 My husband and I settled into a pattern of a nutrition bar for breakfast, smoothie for lunch, and then sit-down dinner. Also- ask them to throw in greens to your smoothie. Many of the sidestreet smoothie places in New York did this for free for me.
#8 Stay at an AirBnB
If you book at an AirBnB location you may have access to a blender in the apartment or home. I bet you could even ask about a juicer! We booked three different AirBnB locations for a our trip and asked our host for all kinds of recommendations and requests well before our trip started. You'll also have a fridge and can stock up on groceries or have them delivered to your place before you even arrive. This would be ideal if on an anti-cancer or special diet.
I found that with AirBnB we got what we paid for. Our first location was so drastically not as described that we got them to refund our money and found a hotel for even cheaper than they were charging! Our second place in the Beacon Hill neighborhood of Boston was nice and clean and just as described. We are checking into our third location when we get into New York today so we shall see!
#9 Strategically Pack Your Supplements
I packed all of my supplements in my supplement box, but looking back it would have been easier to pack my individual time's supplements in separate snack-sized baggies.
#10 White Noise App + Eye Mask
Something that surprised me for both of our stays in New York and Boston was how BRIGHT it gets in the early morning, Sunrise in Boston was before 6am today! I am so glad I brought an eye mask. Also- The "WhiteNoise" app on my phone saved the day from noisy street traffic, garbage trucks, and door slams which allowed us to get restorative sleep each night.
I hope you guys found all of this helpful! Traveling can be tricky when you're trying to live healthy but it's definitely doable. I'd love to hear your tricks for travel. Share in the comment below! 🙂