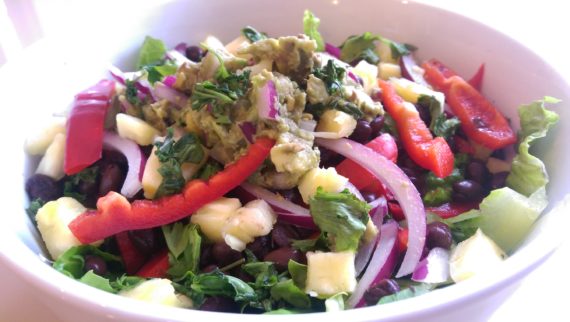 Hi Everyone! Lots to update you on and not enough time to blog about it, so until there's more time I'm giving you this really delicious and versatile salad you can make in all different sizes by adjusting the recipe. It's a healthy but not too-far-out-there statement for the next football tailgate or a healthy dish to bring to your next family gathering. It's also anti-cancer legit enough to add to your recipe rotation if you're healing from cancer naturally.
I hope you love it!

Mexican Cancer Fighting Salad:
2 cups of chopped romaine
1/2 cup of homemade or canned black beans
1 yellow or red bell pepper, chopped
chopped cilantro
1/2 cup homemade cancer-fighting guacamole
2-3 cauliflower florets chopped
1/4- 1/2 cup sprouted pumpkin seeds (or regular raw)
1/8 tsp of cumin
1/4 tsp chili powder
1/4 tsp garlic powder
Dash of cayenne pepper (very small!)
Lightly sprinkle with Herbamare and black pepper.
1 Tbsp Nutritional Yeast optional (for a "cheezy" flair)
Optional: Add homemade or store bought organic salsa! (I used pineapple salsa….YUM.)
Directions: Toss salad to mix up spices. Then top with Cilantro-Avocado-Lime Dressing below. 🙂
Cilantro-Lime Dressing:
1/3 c. olive oil
2 Tbsp water
1 handful cilantro (about 1 cup leaves and stems, packed)
1/2 lime
2-3 garlic cloves
1/4 tsp. salt
1 tsp honey
2 Tbsp apple cider vinegar
Directions: Mix all ingredients in a blender and serve. Keeps in the fridge for several days.
Connect with AntiCancerMom on Facebook!
See more post on anti-cancer lifestyle and diet and alternative cancer treatments HERE.
This blog is Ad-Free! DONATE  to show your support 🙂