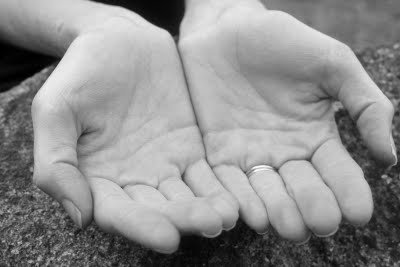 This post is not intended as medical advice, nor is it meant to be a persuasive piece. My husband and I experienced a "missed miscarriage" in July of 2011, and since then I have been prayerfully considering whether it was appropriate to write about here on my blog.
I now know that it is very relevant and important to talk about, primarily because of our belief that health decisions should be made prayerfully and with a peaceful heart, not out of fear and desperation. My hope in this is that those with a similar diagnosis would find peace in their own decision through learning of our story.
Kevin and I were surprised but excited when we found out last summer that we would be expecting again. I had a beautiful pregnancy with my daughter, Ruby-Claire two years prior, even in the midst of a cancer diagnosis, so the idea of any complications were something I felt invincible to.
So when at a routine 10 week ultrasound, the doctor told us that they couldn't find a heartbeat and the baby's gestational sac was misshapen, my husband and I both went through denial and eventually tears.
I was blessed to have a holistically minded OBGYN who gave us our options without any added pressure. He spent 45 MINUTES answering our questions and educating us on our choices:
1. We could allow my body to release the "contents of the conception" naturally, a process he said could take hours to months in the most rare, but extreme cases. He discussed with us what to watch for regarding signs of infection and the need for immediate antibiotics and a "D & C" if that were to occur.
2. I could take an abortant pill to encourage uterine contractions and eventually miscarriage.
3. I could elect for a "D & C" or surgical process where the doctor manually opens the cervix and vacuums and scrapes out the "contents of the conception."
That day in his office, I remained outwardly calm and listened to our options, but my heart was screaming a familiar call: "JUST GET THIS OUT OF ME." Those were the SAME EXACT WORDS that my heart cried when I was diagnosed with cancer in 2008. My impatient and wanting-to-be-immediately-gratified spirit wanted to be pacified.
I recognized this immediately and I knew what my choice should be. I needed to wait. Not only because of my belief in holistic healing, but because in that moment, I felt that perhaps God was calling me to pause and settle my anxious heart.
We went home that day thinking it would be a few days or perhaps weeks until my body recognized that the baby had stopped growing. We told family and friends and my mind began to gradually shift back to the reality of being the best mother I could be to my one living child.
After almost a month of waiting, my obsession with "WHY HASN'T ANYTHING HAPPENED YET?" grew. I read stories online of women who had false readings in their miscarriage ultrasounds and began to wonder if this was my case.
At this point my heart reverted back to my frantic and emotional "I JUST WANT IT OUT OF ME" mindset. I went to a new doctor, one who I secretly hoped would ORDER a "D & C," OR in a miraculous occurrence, find a thriving baby.
He didn't find a thriving baby, and sure enough, ORDERED a "D & C." He probably spent about 7 minutes with me.
After I went home that day and began digesting the reality of my upcoming "D & C," I felt unsettled. I realized the emotions that had led me to this frantic decision were (once again) very anxious and impatient.The peace that I was looking for wasn't there.
Many deep breaths and "on-my-knees" prayers later, I realized that my choice was made out of fear and "quick fix" emotions, echoing my cancer diagnosis past once again. How easily I could slip back into that!
After MUCH prayer and discussion with Kevin, the next day I called and canceled the surgery. I would continue to wait, pray and TRUST through the lingering voice in my head of "HOW LONG?!"
Over the next few weeks, my body seemed to begin to cooperate with me. I started having symptoms of activity regarding the miscarriage. Among them, my belly seemed to shrink and my hormones began to regulate. My doctor did mention that sometimes the body absorbed the "contents" of miscarriage and only moderately heavy bleeding would occur with mild cramping.
Since this was what was happening, I moved on busily with my life throughout that Fall. September, October, November…all passed with continued signs that my body was trying to complete the miscarriage. My holistic OBGYN reminded me to watch for signs of infection, but that he knew of patients who had taken months to miscarry naturally. This may come off as incredibly bizarre to many American women (where about 50% of miscarriages are completed through medical intervention,) but in many parts of the world, waiting out natural miscarriage while carefully monitoring for infection is considered safe.
It was Christmas night that I awoke around 1am, CLEARLY REALIZING that my body had not absorbed the pregnancy. I had a natural childbirth, a 49 hour labor with my daughter, and KNEW EXACTLY what was happening. No one had ever told me that miscarriage FELT LIKE LABOR!
After about 7 hours, the long wait was over. It had taken 5 months for my body to recognize its need for miscarriage, and finally the world's lengthiest miscarriage (not official, but it felt like it) was over. After about 10 days, the bleeding stopped completely and I did not require any additional care.
Looking back at that season in my life, I truly know that I did what was right for me at that time, for my growth in Christ, and for my body. I was very aware of all of the things that COULD have gone wrong (mostly the stories of worried family members or online forums,) but I was confident in my decision and trusted the plan laid out for me. I am not sure if it were to ever happen again, that I would be led down that same road. Thinking about doing all of that again is painful to consider, but I would once again pray through my situation and ask God to show me what to do.
I believe that He guides everyone if we listen with a calm spirit. Really listen. He knows each of us individually better than we know ourselves, and if we ask Him, He will peacefully guide us.
Update January 2016: