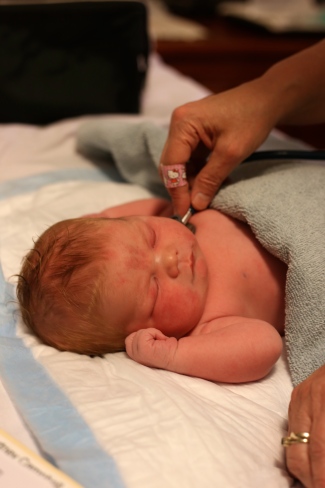 Our daughter is almost 6 weeks old and I have gotten what seems about 6 minutes of sleep since she was born. <smiles.> I have some hardcore Mommy Brain going on which of course is why (along with having two other children,) I haven't blogged about my home birth experience yet. And oh yah, it was either write this blog post or shower, so let's just say I'm thankful for my wonderful coconut oil deodorant.
I know all of the moms reading this will know where I'm coming from. 🙂
I'm excited to share how wonderful our home birth was and contrast it a bit with my previous two natural hospital births. I will also be blogging soon about our experience with our health insurance alternative, Samaritan Ministries and how they financially covered our home birth, maternal care, and newborn care 100%!(Update: Read that post HERE.)
Charlotte Kate's Home Birth Story
I was two days past my due date when my parents, who had planned to come visit from Florida for a week to help us out after the baby was born, pulled into my driveway. I was discouraged because they did the same thing with my second daughter's birth in 2013 and ended up waiting around my house while I was still pregnant for six more days until she was (finally) born. They were only able to stay two more days until they had to head home the day after I got home from the hospital. I desperately missed their help and presence!
This time around with two kids, ages 5 and almost 2 at home, I REALLY knew I would need their help, especially with a home birth situation where my most difficult postpartum days would not be spent with the help of hospital staff and with other two kids under our care at home.
It wasn't even an hour after they arrived that I started having painful contractions that quickly progressed. My other two labors had started in the middle of the night, so I never would have expected labor to start at 4:30 in the afternoon. I was happy because just as with my other two daughters, my mom could be present at the birth of her third granddaughter.
I had been having pre-labor contractions that were uncomfortable at times for about a week before this and also began losing part of my mucous plug on my due date two days prior, so I was pretty sure that this was indeed real labor. After my contractions progressed to the 4-5 minute apart range and were really uncomfortable, we called my midwife Brenda Parrish (of Traditional Birth Services here in Atlanta) and she headed on over along with her student midwife, Margaret.
Around 6:00pm, my contractions were at the point where I was moaning a little too much to be comfortable around my kids and wanted to spare my dad that experience, so I headed upstairs to our bedroom where the birth pool was set up and the floor was covered and prepared for having a home birth. My midwife checked me and I was already 6 centimeters dilated and almost completely effaced. I was so excited that the baby would be here soon.
There I walked up and down the hallway and labored for another few hours. I stopped to let each contraction pass and kept walking and walking. Another hour and a half passed and around 8:00 or so I was at 9 centimeters dilated. During this time, Margaret was checking the baby's heart rate via doppler every 15 minutes or so. It stayed consistent at around 150 bpm.
At this point my contractions were incredibly painful and I decided to get in the water to help cope with them. If you're wondering how we filled a 6 feet diameter pool up in my bedroom, we ran a hose from the hot water outlet in the laundry room. It emptied the hot water tank and then we allowed the cold water to flow until it was about 100 degrees in the pool. To keep it consistently warm, my mom boiled water on the stove to add in as the water cooled down.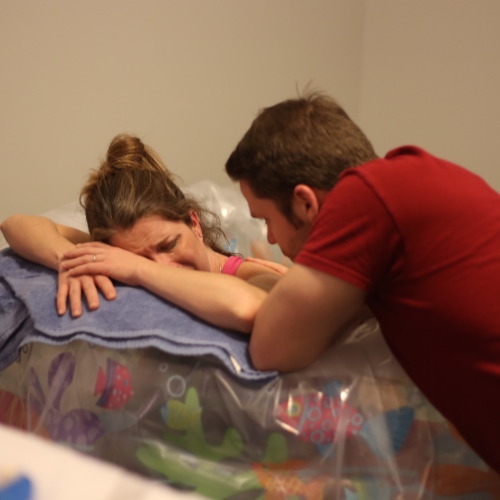 My past two births were planned water births but because of two totally different reasons (meconium present with my first and the hospital's hot water not working with my second,) I wasn't able to labor or give birth in the water. I began to see why water birth's are referred to as "nature's epidural" because it took the edge off of the contractions. My husband had climbed in with me towards the end of labor to help push on my hips to reduce the pulling sensation in my back.
At some point around 9:30pm I hit the most painful part of labor- transition. I actually started whining and believing that I couldn't do it anymore. I recognized this behavior in the middle of my pain because I had been there twice before and was in a way excited because I knew it was time to start pushing and I would meet my newest daughter soon.
Pushing is the most bizarre experience because you have the urge to do it to bring relief, but your logical brain tells you not to because you know it will bring you pain. So it sort of brings pain and relief at the same time. I pushed for about 20 or 30 minutes in the water as my midwife counted for me. I just wanted that baby out! On the last push I went through to count 8 and felt a huge gush of what I thought was my water breaking and heard my midwife say "there's the baby, there's the baby!" And like that, 5 1/2 hours of labor later, our sweet Charlotte was here, born in the water, all 9 pounds 4 ounces of her!
I couldn't believe how quickly she came after a 49 hour labor with my first daughter and an 8 hour labor with my second (I will write about their births in later blog posts.) After she was born we held her warmly in a clean towel while still in the water. We waited to let the blood in the cord pulse until my placenta began to detach and then my husband cut the cord. Once the cord was cut, we attempted nursing but she was not very interested yet so my midwife took her and began her newborn check. She had APGARs of 9 both times and was a chubby, pink, perfect baby.
During all of this, I needed a shot of pitocin in my leg to stop a little more bleeding than my midwife was comfortable with. (I have a tendency to hemorrhage during childbirth, something I will write about when I share my first birth story next week.) Home birth midwives are equipped with medication to stop excessive bleeding along with other emergency situations such as resuscitating the baby and stitching up a mother who tears during delivery.
After my midwife Brenda checked Charlotte, I was tended to by my midwife who came equipped with supplies to give stitches. I was thankful that while I had to go through those unpleasantries, Margaret had some excellent stories about growing up being friends with the Duggar family (from TLC's 19 Kids and Counting) and her story about Jill and Jessa Duggar's weddings and staying at the Duggar house. Thank you for the distraction, Margaret!
Once Brenda was finished, I showered off in my own shower and Brenda and Margaret cleaned up the room and bed. I climbed in bed with Charlotte in hand where she nursed successfully for the first time. My husband and I said goodbye to my midwife who reminded me she would be back the next day to check up on us and stayed up for another hour or so to excitedly reflect on our wonderful experience and stare at our sweet baby girl. We fell asleep that night in our own bed without any interruptions, nursed when the baby needed to nurse (not when the hospital staff told us to,) and rested in the comfort of our own home.
A little bit about Home Birth and prenatal care…
I wanted to take a moment to talk about choosing a home birth and the midwifery model of prenatal care. Here's a little bit about what I loved and how it's different than my experience with hospital births and medical-model prenatal care.
Home birth is considered a safe alternative to hospital births for LOW RISK mothers. I'm not sure if I would have been comfortable with a home birth as a first time mother, but knowing how my body behaves in labor from two prior births gave me the confidence to have our third baby at home.
Home Birth is MUCH cheaper than a hospital birth. We payed $2,900 for our midwife which included all prenatal care and the birth and 3 postnatal home visits. Add in the cost of our birth supplies, two ultrasounds and 10 visits to a chiropractor for a total of just under $3,500. With Samaritan Ministries, we were reimbursed for 100% of the $3,500. Contrast this with my other two hospital births that we paid over $2000 out-of-pocket for our coinsurance (and these were unmedicated, natural births.) The bills sent from the hospital to my insurance company at the time were both over $15,000…including a $300 bill for the water birth tub we never used during my second daughter's birth and an 800 mg ibuprofen for afterbirth pains that cost $84! Check your hospital bills carefully!
During my prenatal care, I was seen monthly at my midwife's home office which had a cozy, warm setting with couches, throw blankets, and calming hymns and other music playing in the background.
My midwife had a computer system in place where I could easily access all of my test results and prenatal notes to review after an appointment. She would also communicate action steps for what I needed to do to help along a healthy pregnancy and delivery.
I loved that my midwife taught me exercises to encourage proper pelvic alignment and baby's position in utero. I did a whole lot of pelvic tilts!
To prevent hemorrhage after birth and to encourage a healthy delivery and uterus, my midwife had me drink a quart of NORA tea daily starting at 24 weeks. Click on this link to read about its benefits.
To discourage the growth of Streptococcus B, a bacteria that can be harmful if the baby is exposed during birth, my midwife had me taking a specific probiotic daily from 28 weeks (but you can start earlier as well.) I never developed Strep B.
To test for gestational diabetes most doctors' have their patients drink a disgusting, chemical-laden bottle of sugary glucose water and then draw their blood for testing. My midwife had me eat a balanced meal (I chose 2 eggs, organic oatmeal with blueberries and walnuts, and a very small glass of orange juice,) and then come in for a finger prick a few hours later. I did not develop gestational diabetes.
My midwife had an excellent professional relationship with my former OBGYN, Dr. Bootstaylor (the same doctor who supported me in choosing to miscarry naturally after a missed miscarriage several years ago.) He would have been my backup doctor for either supervising my midwife "catching" our baby in the hospital or performing an emergency C-section.
Midwives tend not to pressure you to induce until you're at least 2 weeks past your due date and encourage baby stress tests rather than immediate induction.
Midwives know how to instruct you to position your body in labor to move baby down the birth canal and out of difficult presentation in utero. Many doctors do not learn this skill set in medical school and women who receive epidurals, which is often encouraged in a hospital setting, cannot move around to help the baby down the birth canal.
My midwife had knowledge of many natural ways (that worked!) to deal with pregnancy symptoms such as UTI's, headaches, morning sickness, and vaginal varicosities. She was also an expert on essential oil use and used them many times to help me with various issues such as numb hands, pregnancy rhinitis (stuffy nose in pregnancy,) and swelling.
I also loved that my midwife, Brenda was a text away anytime I needed her. I highly recommend her and her midwifery practice, Traditional Birth Services if you're in the Atlanta area.
What about you? What has your birth experience been like?
Check back next week for my next few posts about pregnancy and new baby. If you're visiting my blog for cancer-related reading and information, check out my HOW I BEAT CANCER page and visit the various links there.
Related Posts You May Enjoy:
Safe Beauty, Hair, and Hygiene Products During Pregnancy
Natural Cure for Urinary Tract Infections that Work!
Natural Headache Cure Safe During Pregnancy
Natural Morning Sickness Remedies that Work
Non-Toxic Cleaning Routine Safe During Pregnancy