I remember the first time I switched to "natural" laundry detergent in 2008, shortly after my cancer diagnosis. It seemed pretty decent and not much different than my old Tide or Gain (except a lot less toxic!) Then I had a baby and…YAH. This is where my "natural" laundry detergent bit the dust.
I doubted myself at times if perhaps I just forgot to put the detergent in the washing machine?? That's how little of a difference the detergent made on my baby's stains! It had nothing on diaper blow outs and dried, day old spit up. Onesie after onesie was ruined, even after pretreating it.
And over the last several years it has just gotten worse and more frustrating as my kids have gotten older and stains are more fierce.
Thankfully, with My Green Fills I've finally found a non-toxic laundry system that works and I'm going to talk a little about that today. 🙌
How I Found Out About My Green Fills 
(Disclaimer: This post contains affiliate links. Visit here for complete disclosure.)
Every once in awhile you meet someone that is living life with such a different perspective than most people, that you literally just stop what you're doing and listen to what they're saying. Most recently, this person for me was Stephen Ezell, the CEO and co-founder of My Green Fills: Natural, Non-Toxic Laundry Detergent.
This past spring my husband Kevin's film company began some awesome work with the Hope For Cancer clinic in Mexico to produce a few small films telling the stories of several of their patients who beat cancer with non-toxic methods.
From my perspective, every time I walked into Kevin's office, it seemed he was talking to a guy named Stephen (whose marketing company was helping streamline Hope For Cancer's message) and really enjoying the process of understanding what the vision of Hope For Cancer was.
One day I walked into our bedroom (with a basket full of clean laundry to fold, funny enough) where Kevin was on a business call with Stephen and they were talking about, of all things THEOLOGY- and ummm, it's pretty rare for Kevin to be talking about theology with a client! 😆
Stephen had some amazing viewpoints about God as Creator and some of the original Hebrew and Greek meanings of scripture and I ended up jumping on the phone call via speakerphone for a minute to tell him (sort of jokingly) how this was the most enjoyable business call of Kevin's I've ever listened in on!
The three of us chatted for awhile and Kevin mentioned to me while on the call that Stephen's other company My Green Fills, produces small batch, non-toxic and eco-friendly laundry detergent. I could be embellishing this- but I swear I remember snarkily saying "and it works???"
He casually said to me he would send me some samples and two days later we got them and tried them out! Here's what I thought and my extremely honest review- because I really, really love My Green Fills. 😊
Who Started My Green Fills?
In 1982, Ruth Smith- founder of My Green Fills started making her own natural, hypoallergenic laundry detergent to help her children who suffered from severe skin allergies and used it for over 30 years!
In 2012, Stephen Ezell joined the company as CEO and have created the easy, subscription based, eco-friendly laundry supply system that My Green Fills is today.
What Makes My Green Fills Different?
You already know about My Green Fills being completely non-toxic and environmentally friendly but the main standout to me is that you only ever buy ONE laundry detergent container. After that you buy biodegradable paper refill packets of the powder concentration and then mix it with warm water and shake to blend.
See my Youtube video here for a complete demo of how My Green Fills works and my favorite tips and tricks.
My Green Fills doesn't even *technically* make a "laundry detergent" or "soap." They prefer to say "laundry wash" as detergents are filled with toxic fillers, preservatives, perfumes, and dyes, and fillers that stay on your clothes. Their Laundry Wash simply does what it says- gently washes through your clothes without leaving anything behind.
Their Laundry Rinse functions similarly to a fabric softener without leaving chemicals behind on your clothes.
How Does My Green Fills Work?
To get started with My Green Fills you need to set up your initial subscription– choosing from three packages ranging from $18-28. You then set up a frequency that you want to receive your order. Provide payment and shipping info and you're done. It is super easy and can be changed in your account.
With your initial order you will receive your My Green Fills containers. After this purchase you won't ever purchase another container again and will only receive packets of the powdered detergent that you will mix with warm water in the same container over and over again. 😀
No more giant laundry detergent containers in the landfills or recycling bin. No more lugging giant containers of laundry detergent from Costco each month.
What is My Green Fills Laundry Wash Made Of?
Sodium Citrate, Tetrasodium Salt, Sodium Carbonate, Polyacrylic Acid Sodium Salt, Signature Scent Blend of Essential Oils (including: ORANGE OIL, LIME OIL, FIR NEEDLE OIL, CLOVE LEAF OIL, LAVANDIN ABRAILI OIL, EUCALYPTUS OIL), Plant-Based Surfactants [Sodium Cocoate].
See the Products Page to read all of the ingredients for each product and check out the three Kits to choose from.
Does My Green Fills Work As Well As Tide or Gain?
YES. Absolutely. I will say for stubborn stains it is important to use a pre-treatment of a small bit of detergent and the My Green Fills Non-toxic Stain Stick along with the Enzyme Stain Remover and it has been amazing.
One major perk is that because it is a natural product, you don't need to immediately wash your clothes after pretreating the stain. You can just throw it in the hamper after using the stain stick and wash the next time you do laundry!
Here are few before and afters of my kids' most recent attempts to ruin their clothes. I used the Laundry Wash, Rinse, and the Enzyme Stain Remover along with the Stain Stick. Most of these stains have been on these clothes for hours or possibly even weeks!
A few of the pictures I forgot to take before pretreating them so they are wet.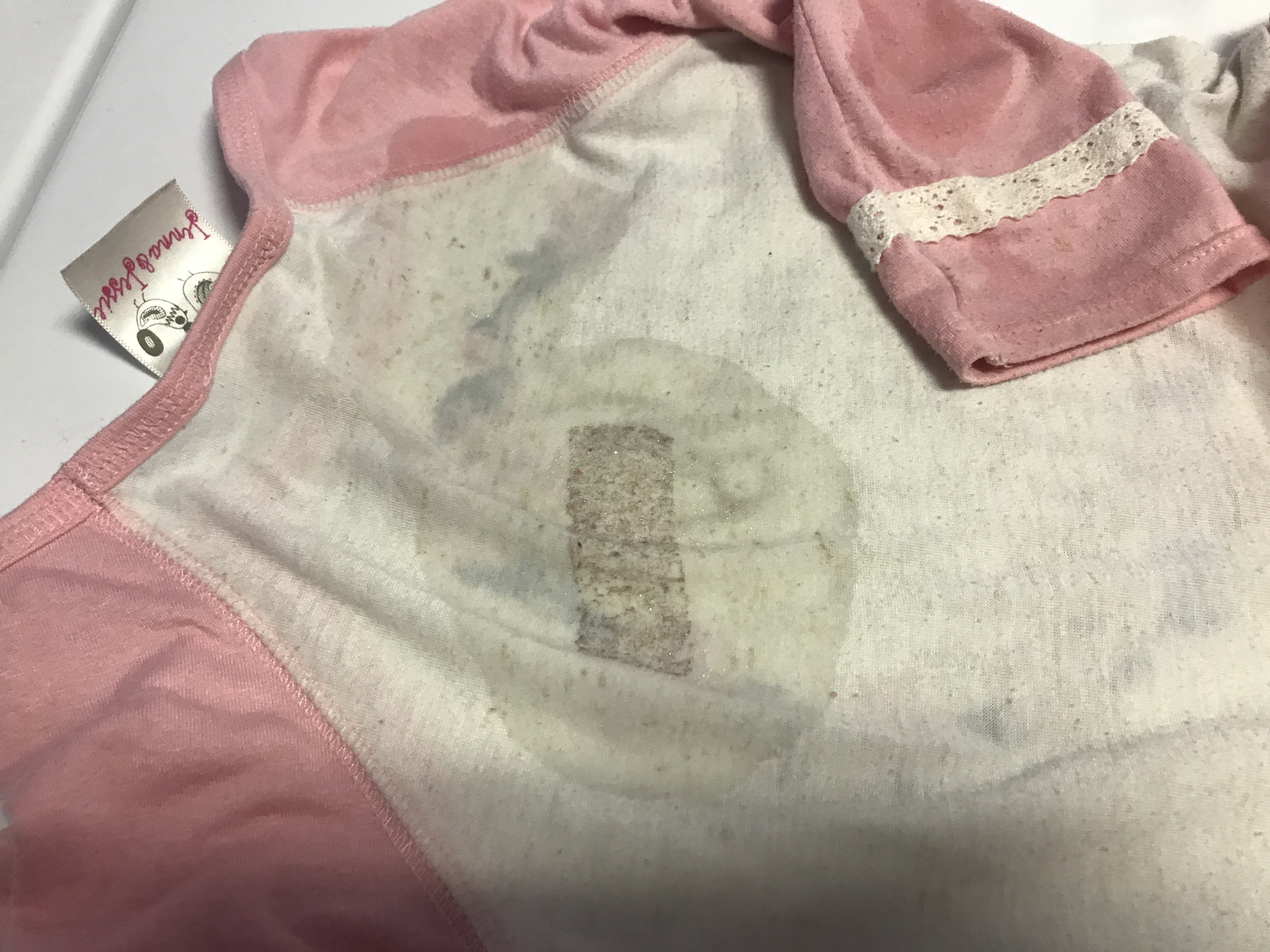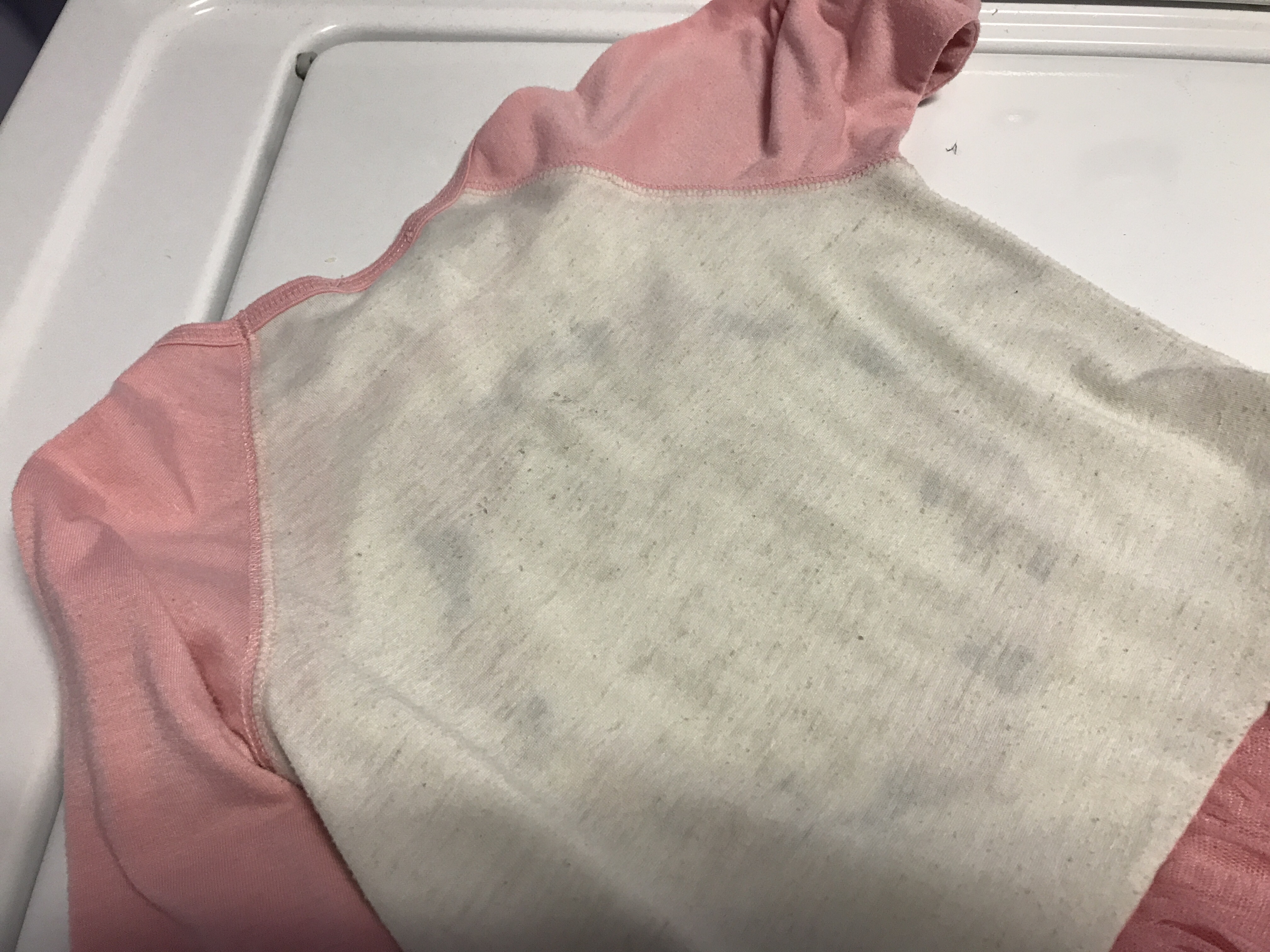 An old sticker. Perfect. The circle you see is the graphic on the other side of the shirt.
How Much Does My Green Fills Cost?
Anywhere from $18-28 to get started. Shipping is ALWAYS FREE! Yeah!
If you have active messy children, I definitely recommend the "Change Maker" Kit for $28 to start off. You will definitely want the enzyme stain remover and stain stick which will last for MONTHS.
After your initial subscription you may want to switch to the "Fresh Start" Kit for $18. (This is what I did…) Then, you'll only get the Laundry Wash and Rinse each month which lasts up to 50 loads HE and 25 loads for standard washers.
One container of Laundry Wash has lasted me about a month for my family of 5. We have a standard top load washer so we only get about 25 loads per container and do 3 – 4 loads per week. ($9 per month or with the Laundry Rinse included, $18 per month.)
If you aren't sure about going for the monthly subscription, another great option is the $1 My Green Fills Trial. You will get 5 loads of laundry worth of My Green Fills products to try out. You can read more details HERE. 😀
How Do the Products Smell?
I was a bit concerned about ANY scent on my clothes because I haven't had scented laundry detergent since 2008! When I first got our My Green Fills order I thought that there was a pretty strong but pleasant smell. After washing, the scent is very subtle and I really love it. If you are sensitive to smell, go for the Unscented Laundry Wash as your scent choice when ordering, but like I said, I actually really like the scented.
How Do I Cancel or Change My Subscription?
Log in anytime to your My Green Fills account to change or cancel your subscription. They also have phone and email options.
What Other Products Does My Green Fills Offer?
(See Product list and details here.)
Laundry Rinse- serves a fabric "softener."
Enzyme Stain Remover- works on stains without harming your clothes.
Non-Toxic Stain Stick- a MUST HAVE if you have kids! Works for pretreating stains.
Dryer Angel – handmade with love by women around the world. This serves to add extra scent (using essential oils) to your clothes and significantly reduces static cling.
Oxyboost Powder- super concentrated hydrogen peroxide, bleach free color brightener. Can also be used for cleaning tile, bathtubs, toilets, removes soil with power of oxygen.
(My Green Fills also has Sunscreen and Bug Spray but I have yet to try it.)
My Thoughts:
Starting with my initial impromptu chat with their CEO, Stephen Ezell to when I mixed my first container, the experience with My Green Fills was fantastic. It actually has made doing laundry feel different and enjoyable.
Pros:
I love MGF's focus on the no-waste model and reducing plastics significantly.
I love that they empower women in struggling communities around the world by working with them to produce My Green Fills products.
I love that my clothes smell fresh, are free of fillers and dyes and are thoroughly cleaned without leaving residue behind.
I love that I can pretreat clothes easily without having to immediately launder.
I love that because MGF is a subscription, I never have to think about laundry detergent at the store or lug a heavy container home.
Cons:
I had to dig deep for cons, so here it goes:
If you don't like subscriptions or having credit cards on file in an online account, you may not like My Green Fills.
It might take you a few months to figure out how much laundry wash and rinse you need every month and you might order too little or too much. (You just adjust this in your account.)
The scent might be too strong for some people. Order unscented to be safe if you are sensitive to smells.
I hope you all give My Green Fills a try. It is definitely worth seeing if you like it! It may even make a great Christmas present for the right person. 😀
Make sure to use my 25% off promo code for your first purchase off the entire store! Just use the code save25 at checkout.
-Cortney 🍏