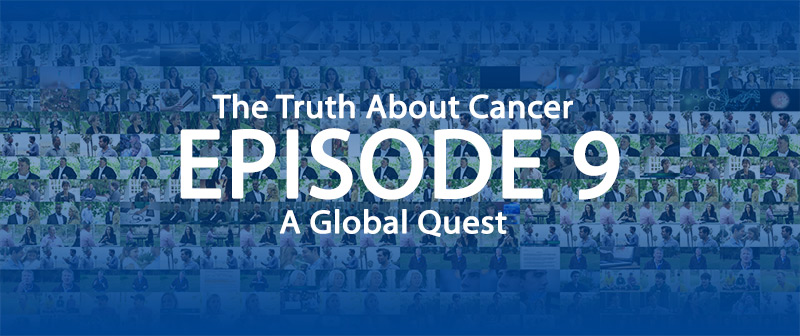 I would have been so encouraged by tonight's episode when I was making the difficult decision of how to treat my cancer. I hope you will find it encouraging too! If you only have a moment, I find Dr. Jordan Rubin especially hope-filled, and he'll give you a pep talk like no one else I have heard on the docuseries. I also found Todd Jones' discussion about how he worked with the conventional system and still gave his daughter what she needed to heal and thrive, even while being forced to give her chemotherapy (the 44 minute mark.)
You can watch the first two episodes of The Truth About Cancer "A Global Quest" for FREE and also purchase it HERE.
Here are a few highlights from Episode 9…
Episode 9:
Cancer Conquerors & Their Powerful Stories of Victory
1 minute mark: Michael Stephenson (survivor) "I've been blessed. I've been given a second chance. I took the road less traveled….and that has made all the difference." Michael had a 2-year-old son…there was no mention to what kind of cancer he has/ had.
3 minute mark: Jared Bucey "Kid Against Chemo" (survivor) He talks about how he didn't know much about cancer when he was diagnosed. Did one round of chemotherapy and it made him extremely, severely sick with GI issues, ulcers, bone pain, hair loss. When he told doctors he didn't want to continue to chemotherapy the doctors told him he would feel like he was drowning to death.
His protocol after he stopped chemo- juicing, infrared sauna, raw foods….discusses more.
8 minute mark: Dr. Jordan Rubin (love his story- read his book "The Maker's Diet" while I was healing from cancer) In his early twenties dealt with Crohn's/ Colitis and healed naturally by eating "how the Bible says…" Diagnosed with testicular cancer in 2008 (caused by an issue that should have been dealt with in childhood)…After doctor gave him his diagnosis he said 'God's going to heal me and I need time." Doc says: "Don't (expletive) around with this." Story continues below…
13 minute mark: Jill Schneider- (survivor) Stage 4/5 malignant cervical cancer in 1975- used acupuncture, herbs. Moved down to South America to be able to afford to take care of herself and treated it 100% naturally! Went on to have a child and now has 2 grandchildren.
15:40 mark: Enoch- basal cell carcinoma (2008) on cheek eyes and arm. Linda Force (chiropractor) was his doctor. Dermatologist said "Basically there's nothing you can do. This is from years and years of too much sun." He went home and prayed "got on my knees" about what to do. Right after he prayed ginger came to mind and jalapeno pepper. He took them, cleaned them, and made a brew out of them. He added filtered water and cilantro and drank it throughout the day. He called it "Kick 'Em juice." The bleeding of his lesions stopped within days. He WORKED with his surgeon- asking him how much time he had to try and the doctor said a month. Is now cancer-free.
22 minute mark: Pamela Bost (mother of child with cancer) "I felt like cattle being processed through the system." "You have no voice and I have no say." "Pediatric cancer is a nightmare."
26 minute mark: Morton Hekneby, MD (survivor) and wife- diagnosed with cancer, diagnosis changed 3 times after treatment. He had cancer in bone marrow, lymph, and bones. She read a quote from Ty's book when she opened it up: "If you have been diagnosis, you still have a 90% chance of survival." She wants people to know that healing naturally is A LOT OF WORK- a full time job. They threw away all of their hygiene products and chemicals in their house. They started with Budwig, and organic vegetables (mentions Indian curry – high in curcumin) and several other things. (They mention several products they use that I can't quite understand what they're saying.)
35 minute mark: Chris Pederson- (survivor) Genetic colon cancer- pursued natural therapies- serious nutrition, chopped vegetable salads, B-17, many supplements.
38 minute mark: Dr. Jordan picks up to talk about his healing protocol: 1. Address spiritual/emotional healing first. Used affirmations from scripture and other teachers. 2. He took 6 weeks off work to focus on himself. "I believe in essence cancer is a spiritual disease." HE IS SO WISE IN HOW HE TALKS ABOUT THE POWER OF BELIEF AND HOW YOU RESPOND TO A CANCER DIAGNOSIS!!! (Too many great quotes to type.) He spent 40 days working his "rear-end off": Infrared saunas, all raw diet, many supplements, prayed 3 times a day…
He talks about how we store emotions in our cells…he had to deal about all of these memories and emotions.
44 minute mark: Todd Jones (father of 2 year-old survivor Jenay) Talks about "LifeOne" product and Dr. Michael Farley. That with "Living Fuel" supplement is how they decided to boost her immune system while she was FORCED to go through chemotherapy. HUGE POINT about the food while they were in the hospital- corn dogs chips, chocolate milk, ice cream, jello, pizza, GMO everything. They brought their own food to the hospital! They gave their daughter all of the supplements through a syringe and sweetened with stevia. Daughter went through 3 years of chemotherapy, although they wanted to stop after she was in remission. Officials CAME TO THEIR HOME and told them their child HAD to go back to the hospital or both of their children would be placed in foster care. Because of this, daughter went through 3 years of chemotherapy
55 minute mark: Ann Fonfa (breast cancer survivor) Founded The Annie Appleseed Project. You can read her entire cancer journey HERE. Her testimony is so encouraging! (ON a side note Ann is a lovely lady who I have met several times when in Florida. Her Annie Appleseed Conference is fantastic!)
58 minute mark: Carol and Trevor Smith: "He never was sick one day!" Cut out all processed foods, only organic, juicing, smoothies, dried fruits, naturopathic doctor for tests, Vit D supplement, high dose Vitamin C. 10 months in they found Cannabis oil. Wrote book publishing his protocol "Taking Control" by Alyssia Chardae. (Spelling might be incorrect.) Cancer free 2 years.
01:04 mark: Dr. Robert Gorter, MD. PhD- (survivor) Stage 4 germ cell carcinoma testicular cancer- used mistletoe injections, hyperthermia, and change in diet. Cancer free in 18 months…that was 43 years ago!
01:08 minute mark: Lourdes Colon (Stage 3b cancer survivor, actress) Doctor advised her to eat whatever she could to put on weight. Pursued completely non-toxic treatments. "This makes sense. This is what I've got to do." Daily colonics, wheatgrass. Typical daily diet: organic raw at the beginning because of the live enzymes, wheatgrass at morning and afternoon, brown rice, avocado, NO MEAT, NO DAIRY. Her advice to those newly diagnosed: "Educate yourself!!!" (The videos of herself that she provides are shocking!)
01:15 minute mark: Jordan Rubin talks about the remaining parts of his protocol and how he MONITORED himself with Dr. Schandl in Ft. Lauderdale and used Dr. Schandl's hCG blood test (different from the hCG urine.) He also mentions a CT scan. He healed 100% naturally. "Don't own the disease. Cancer is not who you are." (He goes on to say some very motivating pieces of wisdom in regards to healing!) Next book will be titled "To Hell With Cancer."
01:21 minute mark: Henry McElligott (Stage 4 tongue, neck cancer survivor) Doctors wanted to rush him into chemo and radiation "or you won't survive very long." Dug into research into natural therapies including "The Quest for the Cures" docuseries. Protocol: water fast with supplements for 3 weeks. Neck swelling decreased and was able to easily swallow. Implemented 100% natural protocol. His testimony is AMAZING.
Dr. V (she is so precious!) talks about Ty's work with Quest for the Cures and also how much it means for her to guide and help others (gets emotional.)
Eithel Krauss, Alan Ray, Travis Jones, and others- (crew for Quest for the Cures) talks about the impact filming the documentary had on them and how much they learned. (Very moving…from a real place of honesty. These were young guys that had no idea what they were diving into!)
01:32 minute mark: Tara Mann- (Founder: Cancer Crackdown and former pharmaceutical representative now holistic cancer mentor) talks about the support of The Truth About Cancer.
Dr. Gaston Cornu-Labat, MD "Healing comes from within"
Dr. Chilkov: "some people are living with cancer as a chronic illness….it is not a death sentence!"
01:38 minute mark: Ty talks about healing cancer holistically and paints a picture with words of why this makes so much more sense than using the big 3 conventional treatments….!
01:47 minute mark: Ty mentions the holistic cancer charities who will receive donations from proceeds of the docuseries, one of which is HealingStrong, a non-profit which held its first holistic cancer conference in 2013 (which I helped plan) and will now focus on a group curriculum to connect holistic cancer thrivers in communities around the world (which my dear friend and founder Suzy Griswold and I are in the process of writing!)
Feel free to forward this post onto your loved ones and watch alongside them. 🙂 It is life-changing information!
You can also find Recaps of the past 8 episodes: