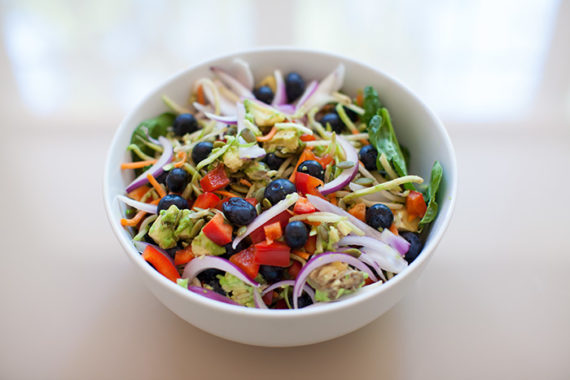 This is a great place to start for anti-cancer recipes, juices, and smoothies for healing and preventing cancer naturally or with alternative or integrative medicine. When I started my cancer journey in 2008 I would have loved something like this. Each link is a blog post with resources and detailed information and recipes for next steps.
My Life During Holistic/ Nontoxic Cancer Treatment:
My Entire Cancer Journey on my HOW I BEAT CANCER page.
My Entire Written Interview with Chris Wark from ChrisBeatCancer.com, 2011
My Video Interview With Chris Wark at the HealingStrong Conference, 2013
A Day in the Life During Holistic Cancer Treatment (A Five Part-Series)
Facing the Critics of Alternative Cancer Treatment
The 3 Day Cancer Fighting Meal Plan
5 Essential Questions to Ask Before Starting Cancer Treatment 
The Original Quest for the Cures Interview
Anti-Cancer Foods:
Quick and Easy Cancer Fighting Salad
5 Cancer Fighting Juice Recipes + My Favorite Juicer
Anti-Cancer Vanilla Cinnamon Budwig Smoothie
Strawberry Anti-Cancer Budwig Smoothie
A Quick Overview of WHY You Should Eat a Raw, Organic Vegan Diet for Cancer Healing
The Budwig Protocol and Mixture as a Non-Toxic Cancer Therapy
Anti-Cancer Green Vegetable Smoothie (and how to make drinking it easier) 
Anti-Cancer Properties of Cruciferous Vegetables
Anti-Cancer Properties of Dark Leafy Greens
Anti-Cancer Properties of Ellagic Acid in Berries
How to Read a Food Ingredient Label and What to Look Out For
Video: Can We Eat to Starve Cancer?
Jerry Brunetti's Presentation on "Food As Medicine"
Anti-Cancer Properties of Garlic and Onions + Recipes
Anti-Cancer Spices: Turmeric, Cayenne, Ginger
The Importance of Omega 3 Fatty Acids and How to Get More of Them
Anti-Cancer Properties in Green Tea
The Ultimate Cancer Fighting Kitchen: Vitamix Deals and Review
The Ultimate Cancer Fighting Kitchen: Immersion Blender and Budwig "Chocolate Pudding" 
The Ultimate Cancer Fighting Kitchen: What Kind of Juicer Should I Buy?
March on Monsanto: Atlanta, and the GMO Debate
Green Smoothie Recipes:
Creamy, Icy Chocolate Almond Smoothie
Green Drink Psychology: The Pros and Cons of a Green Smoothie Habit
My Hubby's Favorite Green Man Smoothie
Green Smoothie For St. Patrick's Day
Anti-Green Smoothie Featured on Kris Carr's Crazy Sexy Life Recipe of the Week
The He-Man Smoothie (it gives you THE POWERRR!)
The Doobie Smoothie (Cauliflower Banana Strawberries)
The Orange Blossom Special Smoothie
Cha Cha Cha Chia Peach-Banana-Chard Smoothie
The Compost Pile Smoothie (it's as awesomely fascinating as it sounds!)
Anna's Frozen Chocolate Green Smoothie
Post-Cancer Healthy Recipes:
Healthy Ezekiel Pizzas and Salad
Creamy Coconut Beans and Rice with Veggies
Dehydrated Apple and Zucchini Chips
Paprika Slow-Cooked Chicken and Broth
Gardening/ Sprouting
Starting Your Own Container Garden- It's Not As Hard as You Think