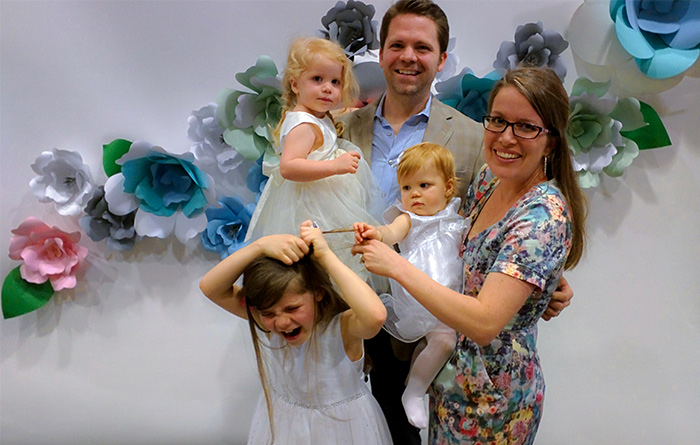 Hi there! I'm Cortney. Wife to Kevin, mom to three amazing girls, and natural cancer survivor.
Since 2011, this has been my cozy place on the web to write about life during and after healing naturally from cancer. Here you will find the nitty-gritty about what an anticancer lifestyle and diet looks like. Whether it's chugging giant vegetable smoothies, chopping colorful salads, pinching my nose to eat cancer-fighting concoctions, or shivering after wheatgrass shots– I hope you'll join in!
Although my path to healing involved nontoxic therapies, I know that each person's healing journey is unique. I want those stopping by here to know ALL of your options for cancer treatment and know that everyone can benefit from adopting an anticancer diet and lifestyle.
Whether you are preventing, taking a natural approach to healing cancer or are integrating conventional treatment, our diet and lifestyle choices matter and you have OPTIONS.
Each month I will typically write 1-3 new blog posts, and on quiet weeks you can chat with me on my Facebook and Twitter pages, or follow me on Instagram. I also have a YouTube Channel that will have videos…eventually. 🙂
Here Are Some of My Most Popular Posts to Get Started:
Questions to Ask Before Chemotherapy Begins
An Oncologist Questions Chemotherapy
My Natural Healing Story: How I Beat Cancer
Series: A Day in The Life on Alternative Cancer Treatment
39 Bizarre Ways You Know You're Healing Cancer Naturally
Also, you can visit the START HERE page to find archives of all of my past posts by topic.
A Bit About My Cancer Story…
When I was diagnosed with cancer in 2008 at 26 years old, it was my husband Kevin who felt a deep unrest about me receiving 4 rounds of chemotherapy plus follow-up radiation for my stage 2 NLP Hodgkin's Lymphoma.
I however JUST WANTED IT OUT OF ME!!! (That was what I really said!) And because I am the recovering people-pleaser that I am, I had a hard time telling my oncologist that we didn't so much agree with his treatment options. 
You can read the details of my story HERE and watch it HERE, but after freaking out for a few days, I eventually agreed to give a nontoxic, natural approach to my cancer a try for a three-month period while monitoring my cancer's behavior carefully.
Long story very short, after 3 months on my nontoxic healing protocol my palpable cancer was almost completely gone to the touch. This was extremely encouraging and we moved forward, strengthening my protocol even more as we continued to learn more about additional natural therapies.
Four months into my nontoxic cancer treatment, I discovered that I was pregnant which of course brought plenty of new questions and changed the dynamic of my healing considerably. My oncologist, my husband and I both agreed that we would continue doing what we had been doing and three months after that I was declared in "clinical remission" and have remained cancer-free since. 
Everyday I am incredibly grateful. With AntiCancerMom I hope to help make life less overwhelming so that you will thrive during your healing journey and after. 
Cortney 🌻