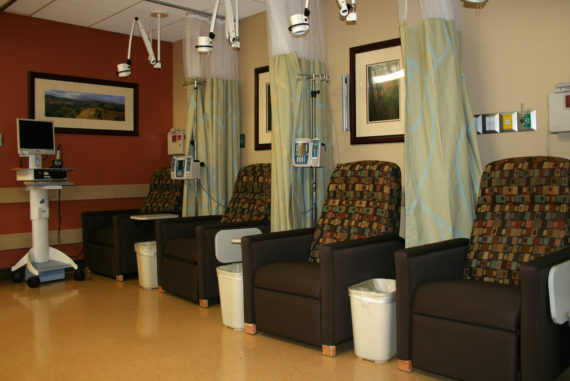 I really didn't know what else to name this post. It is simply what it is. That time God spoke to my husband in the chemo room.
To any of you visiting here for the first time and also to you all that have been hanging around with me for a while, you need to know that I haven't written about this in the seven years since I started my blog. I have very rarely ever talked about it publicly even though this experience is what cemented our decision to pursue non-toxic therapies for my cancer in 2008.
I was concerned that by sharing it, our story would be dismissed as ridiculous, too religious, or just plain weird.
So I just left it out of the conversation.
But then a few years ago at the 2013 HealingStrong conference, something AMAZING happened and I changed my mind. Spine tingling amazing. And I started talking about it. I am so excited to share it with you today.
Cancer.
Many of you know that in 2008 I was diagnosed with Stage 2 Nodular Lymphocyte Predominant Hodgkin's Lymphoma. I was 26 and newly married.
NLPHL is a slow progressing and rare cancer but can get tricky in the stage I was in (already spread to the opposite side of my body) because it can morph into other lymphomas or leukemia as it progresses. Because of this (and because it's extremely rare) my oncologist consulted with the doctor he did his fellowship under at MD Anderson in Houston. THEY were the ones that recommended the chemo and radiation protocol of 4 rounds of R-CHOP chemotherapy plus radiation as needed.
So three weeks after I found the large mass in my armpit and after my surgical biopsy, PET and CT Scans, bone marrow biopsy, and blood work, it was time for the tour of where I would be receiving my chemotherapy.
The doctor met with us first that day. This was the same visit where my husband Kevin asked the doctor about an alternative to chemotherapy ("NONE") or nutritional therapies ("NONE").
His response was basically that he wasn't trained in alternative medicine and it wasn't well studied or recommended.
After our twenty minutes with the oncologist, we met with the nurse who gave us handouts for each of the drugs I would take during my treatment. There were a dozen of them! Drugs for EVERYTHING….anxiety and depression, drugs to shut down my ovaries, drugs for nausea, the chemotherapy drugs, etc. This is also when the nurse told me they would shut down my ovaries with a drug intended to do the best of saving my fertility.
"What are the chances of me not being able to have children after this treatment?" my husband Kevin and I both asked.
"Anywhere from 30-70%. It's hard to really say" was his response.
That left me with a pit in my stomach, like I had been sucker punched. Total paradigm shift.
The Chemo Room
After this meeting we went straight into the room where patients were receiving their chemotherapy. It looked a lot like the picture above.
The nurse told us about the personal TV's with DVD players (it was 2008) and the beautiful view of the trees.
Kevin was directly in front of me following the nurse, quietly listening and taking it all in. I looked down and saw that every chair was full of people hooked up to IV's, most of them gaunt appearing and sickly, and with scarves on their heads or with no hair at all.
It was in this room and in this moment that Kevin heard it. He said it was an incredibly strong impression, practically audible and it definitely wasn't his own voice or thoughts.
It said "THIS IS NOT FOR YOU."
When he recalls the story, he said that he looked around, wondering if I or anyone else had heard something, a little bit confused of what he just heard.
I didn't hear a thing nor notice if Kevin was even looking at me. I was too busy empathizing and imagining myself in those chairs.
THIS IS NOT FOR YOU.
After a trip over to the wig shop, we were on our way home with appointment cards for the chemotherapy port surgery and another card for the fertility specialist.
On the way home, we sat in silence for a while. It was me who started to talk about things, and after listening for a while Kevin shocked me with this.
He said "I don't think we are supposed to do chemotherapy."
I stared at him with utter confusion.
"Nothing about it seems right," he continued…
"I heard this voice…I think it was a voice. But it wasn't my thoughts…it's not like anything I heard before. It was perpendicular to my thoughts. It interrupted my own thoughts. In the chemotherapy room…it said….'This is not for you'."
. . .
It's all a blur for me to recall, but I remember being angry immediately. It was the perfect outlet to the anger that was probably stored down deep within me over the whole "unfairness" of cancer.
What he said went against the plan I had already mostly come to terms with.
I had finally accepted my course of action and now HE was suggesting we change the plan! I was livid.
But Kevin made it clear from the beginning that it wasn't his plan, he really felt it was what God was nudging and telling us to do. Knowing his character I knew this was real for him. He was telling the absolute truth and I had no real option but to decide to listen, too.
Research
We went to dinner that night…steak, buttered bread, and sweet tea from Longhorn Steakhouse. Somehow I had an appetite. I think that I was just relieved I had a confirmed diagnosis after three weeks of waiting and was ready to move forward. As I said so often- ready to "just get this cancer out of me!" Like it was going to be that easy.
I basically ignored everything Kevin had just said to me and stayed the course of the doctor's orders. It put a great chasm between us for a good while.
But the one thing that I continued to wrestle with most about the treatment plan was infertility. I mourned the children that I may not have been able to have because of the chemotherapy damage to my reproductive system.
Kevin had already gone into a bit of research on "alternatives to chemotherapy" before the moment in the chemo room happened, so with his new direction he continued.
Coincidentally, a piece of key research for him was in a video from MD Anderson. A lymphoma specialist there named Anas Younes talked about how although the survival rate of Hodgkin's lymphoma is high, the CURE rate is not. He also made an extremely important statement. He said that in 10 YEARS he believed "chemotherapy would be considered a barbaric way to treat cancer patients."
We actually attempted to get me into a clinical trial there, but like most clinical trials, the patients need to have exhausted all of the other options for treatment to be considered. Meaning I would need to go through the chemotherapy and it fail in order to be considered for a clinical trial.
But naturally, when he googled "alternatives to chemotherapy for cancer" – sites like CancerTutor.com and other sites popped up. This is where Kevin found Bill Henderson's book amongst many others. Ralph Moss, Patrick Quillin, Ty Bollinger. He ordered ALLLL the books and read as many as he could.
More and more he started bringing up the idea to me about using alternative therapies. He had researched day and night and meanwhile I kept my head stuck in the sand. I just wanted the cancer out of me and wondered how on earth ANY of these alternative therapies could work if my doctor had no idea about them!
Not Looking Back
Over the next few days, I too started to wonder about non-toxic cancer therapies. Would it be worth giving a try? I started looking through the dozen books Kevin had ordered that were sitting on our coffee table. I skimmed through a few of them and found Bill Henderson's "Cancer-Free: Your Guide To Gentle, Non-Toxic Healing" to be the simplest looking and one of the smallest.
After a few chapters I was hooked and wanted to TRY at least changing my diet and lifestyle. I wasn't quite convinced of forgoing chemotherapy totally but I figured that changing my diet could only help. We dove into EVERYTHING related to healing cancer naturally and applied what we could.
Once I began to research the slow-growing nature of my cancer (and the fact that the doctors seemed in no rush in the three weeks it took to get my final pathology!) I agreed to give alternative treatment a three month trial period while monitoring carefully.
It was not an easy season at first. Concerned loved ones were objecting and confused and sometimes even angrily concerned. My mom was extremely upset towards Kevin and felt that I was powerless in my choice. She thought because of HIS IDEA I would die from not doing chemo. (My mom's twin sister had Hodgkin's as a teenager and was one of only a few to survive the clinical trials at Johns Hopkins she underwent.)
It was extremely stressful and walls had to be put up for a while for me to stay the course. Finding a new, supportive oncologist who agreed that I had a few months to try alternative therapies and diet change was extremely relieving to me (but especially to my mom!)
You can read more about my entire journey HERE, but six months later, my remaining tumor had shrunk to the touch and I was on my way to being cancer free. I was also eight weeks pregnant with our first child.
Confirmation
Now, over the years Kevin has always been 1,000% sure that what he heard in the chemo room was indeed not from him, but over time I had began to wonder if maybe it was just…I don't know? A coincidence?  His subconscious? Or something?
You guys also need to know that Kevin is not even one bit dramatic about this kind of stuff. He is the most authentic and truthful person I've ever met.
But I always had that 0.01% bit of doubt in me.
Until this…
Ann Cooper, Stage 4 Pancreatic Cancer Survivor
This video was filmed at the HealingStrong Holistic Cancer Conference in 2013 and since Kevin and I helped found HealingStrong and plan the conference, we were in the "green room" with Chris Wark and some of the other speakers where this was filmed. We were directly behind the camera watching this interview.
Chris is interviewing Ann Cooper, a stage 4 pancreatic cancer survivor who only used alternative therapies to heal. She is the EMBODIMENT of a miracle.
Many of you know that stage 4 pancreatic cancer is basically the worst cancer you can get. It is always terminal.
But Ann has been alive and cancer free for 17 years now!
Now if you're short on time, scroll to the 06:08 mark where Ann starts to talk about God's direction in her healing and the exact phrase He used to speak to her in her spirit. But it really is well worth it to watch the whole thing. You'll be amazed.
LISTEN TO WHAT SHE SAYS…
Needless to say, my husband heard her say this and about FELL OVER.
I almost wanted to scream out loud while it was being filmed and hop on the couch with Chris and hug her. I still can't believe it.
Unbelievable. PRAISE GOD. Crazy.
Mic Drop.
So that is my story about how God spoke to my husband in the chemo room. Now you know why I now believe it 1,000% even though I wondered about it for years.
Notice that God did not say "chemo is bad." Or "the pharmaceutical industry is evil." He was so gentle. A simple "This is not for you…"
Redirection.
And he told Ann Cooper the exact, same thing.
The takeaway?
Pray like crazy when you are diagnosed. Ask God for the bread crumbs and next steps. Ask Him to tell you what to do. Pray every day and listen in your spirit. Read the Bible or find a beautiful healing devotion to get started if this whole God thing is kind of new to you.
He cares so much for you and wants you to know and love Him.
Our paths are not all the same. I tell people about this everyday who I talk to about their health. Just because my path went one way, doesn't mean it is right for you. But you won't know unless you ask your Creator, who knows you best.
Pray pray pray, and don't make a decision out of fear of what might happen. Wait for the peace that surpases all understanding.
-Cortney 🍏
Looking for a place to learn more?
Want to be notified when new posts are published? SUBSCRIBE to my newsletter. 😊 Follow me on Facebook and Twitter.