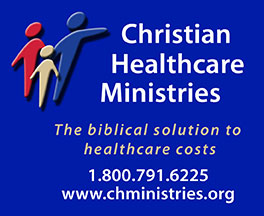 For more information about how Christian Healthcare Share Ministries work and WHY they are better than traditional insurance under Obamacare, make sure to see yesterday's post. I think that all three of the major CHSM's each have different strengths that will satisfy the needs of their individual members which is what I'm going to attempt to make simpler for you today.
COMPARING THE MOST POPULAR CHRISTIAN HEALTHCARE SHARE MINISTRIES:
Update 8/1/15: If you are interested in seeing how to utilize Samaritan Ministries when you have a medical need, specifically a maternity/ home birth need (similar to a "claim" in the insurance world,) see my latest post: My Home Birth Experience with Samaritan Ministries.
Update 12/29/14: Please know that the prices on this post may have changed since its original posting. I will note updates when they occur, but please check with the individual ministries regarding current pricing. Also check out my update on one year of membership with Samaritan Ministries HERE.

Medi-Share is by far the most heavily advertised of the three largest CHSM's. My take on Medi-Share is that it is a great ministry for people who want a more "hands off" approach in dealing with their medical decisions. Unlike the other two ministries, they negotiate your medical bills for you and work directly with your doctor which they prefer to be one of their "In-Network" providers. There is also a maximum "out of pocket" Annual Household Portion (for all total bills,) which may help some feel safer about monstrous medical disasters.
Office visits to their In-Network doctors are $35 and emergency room visits are $135. They also have no maximum amount that can be shared, and are slightly more lenient on preexisting conditions. Their application fee is $125 upon joining. They have a $1 million cap on your family's medical bills.
The main reason we chose not to go with Medi-Share had to do greatly with their policy on alternative medicine and preference for In-Network, conventional doctors. They will only cover doctors who are licensed by the American Medical Association (AMA) and DO NOT cover any alternative cancer therapy or naturopaths, homeopaths, etc.
My other reason was simply cost. Medi-Share works on a system more like a high deductible insurance plan where you pay a certain amount of your choice called the "Annual Yearly Portion" FIRST before you can publish a need for reimbursement. This does NOT include office visits to their In-Network doctors or emergency room visits which are separate.
The lowest "Annual Yearly Portion" amount that my family was eligible for was $1,250 a year (comparable to a $1,250 year deductible in the insurance world for the whole family.) This choice would have required me to pay $720 a month for my family of four PLUS $1,250 in out of pocket expenses before we get any coverage for events that required more than an "In-network" doctor or emergency room visit. They do have a health incentive if you meet certain criteria for a 20% reduction in your monthly share. You can get a quote for Medi-Share's costs HERE and read their guidelines HERE.
Another Medi-Share review to check out HERE with excellent charts and comparisons.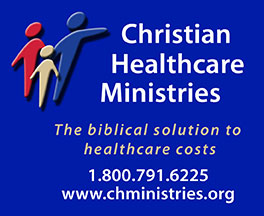 Christian Healthcare Ministries is different from the other two ministries in that it offers a variety of membership levels to choose from depending on how much coverage you want. You can even choose different levels for different family members, which is a HUGE perk and gives each family plenty of options.
Their GOLD package is $150 monthly per person (unit) and includes maternity coverage (and will even cover home births) All medical bills are shared (paid) after a $500 TOTAL personal contribution per year.
Their Silver package is $85 per person (unit) per month and includes significantly less benefits than the gold with a$1,000 personal responsibility per unit AND per incident. (With the Gold plan you only pay $500 per year TOTAL.)
The Bronze package is $45 a month per person (unit) with a $5,000 personal responsibility per unit, per incident and the same reduced benefits as the Silver plan. This is ideal for someone just looking or minimal coverage and catastrophic coverage and also satisfies the Obamacare mandate as a bonus.
The "Unit" system with CHM is a little difficult to understand at first, but it works this way so families can pick and choose individual plans for each member of the family. Any "units" (people) after 3 is NOT an additional charge, meaning a family of 3 people, 5, 10, 0r even 20 people would still be considered "3 units."
There is no application or annual fee for CHM. They have a "Prayer Page" where members can give more to situations that don't meet the guidelines for sharing such as preexisting conditions. There is a $125,000 share limit per incident, but you can sign up for their "Brother's Keeper" program ($40 annual fee and an estimated $25 quarterly in addition to monthly share,) you get up to $1 million in coverage per illness.
The ONLY hard reason we did not go with Christian Healthcare Ministries was because they didn't cover alternative physicians or therapies. I actually got to meet some of their representatives at the Catalyst Conference here in Atlanta and really enjoyed my talk with them. They didn't pressure me to join and authentically shared how they really loved the ministry and their job with them.
I haven't been able to find CHM's guidelines online, but you can request more information at their website: CHMinistries.org. You can see their plans HERE.

Samaritan Ministries made our decision simple. I fell in love with their simplistic, personable, no-nonsense approach to truly bearing each others burdens. There was no "red tape" or complicated guidelines. I liked their transparency and I know this might sound weird to some of you, but I could feel their trust and love for Jesus through their clear and uncomplicated policies.
***I have updated on my two year experience with Samaritan Ministries in my blog post on home birth and maternity "sharing" HERE.
This is how Samaritan Ministries works:
1. You join Samaritan Ministries by filling out an application (including approval from a church leader and acknowledgement of faith) along with the $200 application fee and first month's "share" of $220 for one person, $305 for single-parent families, $400 for a married couple, or $495 for a family of 3 or more.  (updated in October, 2016) (See information about all plans.)
2. The first 3 months of your new membership, you'll send your monthly share directly to the SM headquarters. Each month after that, you will mail your "share" (like an insurance premium) to a fellow member who has a health care "need" (like an insurance claim,) or a medical bill to pay. You receive this information through a letter which lists their address and general condition that you can pray for. (So far I have sent my share and prayed for a man having intestinal problems and a woman with kidney stones.)
3. Also included on this letter is a "Special Prayer Need" request from families who have medical expenses not covered under the SM guidelines such as dental expenses and preexisting conditions. You are encouraged to send a note of encouragement to these families and an extra amount of money if you are able.
When you need a medical bill paid:
1. When you have a medical bill to pay, you request a Need Processing Form from the SM office and return it completed along with the bills you need to pay.
Note: Medical needs under $300 are not publishable. These are considered to be feasible and should be planned for in the household budget. For bills beyond $300, it is important to know that you do NOT have to pay the first $300 of these bills if you ask for discounts from your doctor due to paying up front in cash. (You can see an example of how I did this HERE.) SM has an entire department dedicated to helping you do this and save the ministry money. Also- there is a three time limit on your $300 personal responsibility per family. After three incidents, the $300 is waived for any future incidents.
2. Within 60 days (on average), you will begin receiving Shares from other Samaritan Ministries members and will keep a checklist provided to you by the ministry to ensure you receive all shares assigned to you to pay your medical bill.
This may seem overly simple and old-school, but I just love how this works and feel so good each time we mail our check. I can't say I ever felt this way about my monthly insurance bill!
A few other important points about Samaritan Ministries…
SM has JUST rolled out an online system option to begin paying your "Shares" to others online. We are only in our second or third month of having this option, but I can already say it was a flawless transition in contrast to Obamacare rollout. 🙂
I have heard from several people that there is faster processing of Needs (medical claims) with Samaritan Ministries due to direct sharing instead of sending it to the headquarters where they redistribute like with the other two ministries.
If you negotiate your bills down for a price reduction (they have a department to help you with this process,) the money you save actually gets taken out of your $300 per incident responsibility, leaving you with less or no money to pay for your medical care.
Standard coverage under SM is $250,000 per family and you can sign up for additional coverage by opting to "set aside" one month's share and sending it when prompted to someone who has a need over $250,000. This is called Save to Share and you may or may not have to send that money depending on if they need you to. It has a $15 yearly fee to join plus the Share amount you put aside.
Their membership admin fee is $200 plus your monthly share (which is what you pay every month thereafter.)
Samaritan Ministries and Alternative Cancer Therapy:
The strongest pull for Samaritan Ministries came from their friendliness towards alternative medicine and ALTERNATIVE CANCER THERAPIES. You need to call ahead to submit information regarding the costs of the alternative treatment versus the cost of the conventional and you can submit all of your bills for reimbursement. This is what they state in their Guidelines (pg. 24-25):
Regarding Alternative Cancer Treatment and Other Alternative Treatment:
"Alternative Medical Practices (or non- conventional treatments)— An "alternative medical practice" or "treatment" is a treat- ment proposed for a condition diagnosed by a licensed, medical doctor, but not prescribed by the member's doctor and not otherwise listed in the Guidelines as a publishable need.
Alternative treatments are published with prior written approval from Samaritan Ministries. Approval is based upon factors such as the less invasive nature of the proposed treat- ment, demonstration that such treatment will prevent more costly conventional treatments, consistency of the treatment with what a medical doctor would prescribe for illness or injury, and the member's acceptance of appropriate preconditions for publishing the expenses. An example of a treatment that may be an alternative, but which has been published with prior written approval by SMI: The use of vitamin B-17 for the treatment of cancer."
****With Samaritan Ministries, cancer IS considered a preexisting condition and you must be in remission 7 YEARS from diagnosis in order to be covered for the same cancer type again. If you are diagnosed with a different form of cancer, then it is not considered preexisting.***
Regarding Naturopathy:
"Naturopathic procedures, adjustments, manipulations, ultrasound, and similar treatments will be treated as "Alternative Medical Practices" (Section VIII.B.1). However, medical treatments and prescriptions provided by a licensed Doctor of Naturopathy that meet all other requirements will be publishable."
OTHER EXCELLENT RESOURCES TO COMPARE CHRISTIAN HEALTHCARE SHARE MINISTRIES:
http://samaritanministries.info/samaritan-ministries-vs-christian-healthcare-ministries/
http://www.cchfreedom.org/word/Health_Care_Sharing_Ministry_Comparison.pdf
I hope you find this helpful in your decision making! If after reading this post, you choose Samaritan Ministries for your family, let them know Cortney Campbell at GreenDrinkDiaries.com sent you. (:
***I learned a whole lot through this rigorous research process on Christian Healthcare Share Ministries, but if you believe you find a mistake in my research, please kindly let me know in the comments section of what that might be. I will gladly correct my post and give you the credit. 🙂 ***